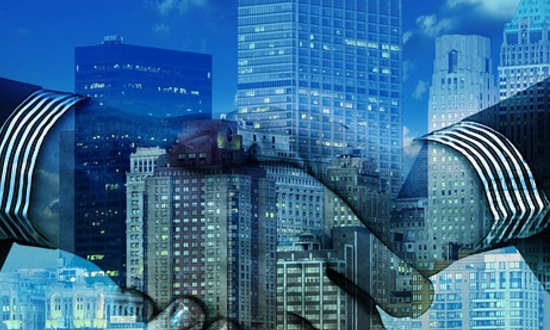 If you're only using Internet based advertising to promote your bricks and mortar business, you should reconsider your marketing strategy.
First of all, using only one channel to market your business is always folly.  If that particular medium fails for some reason, or is no longer available, you'll have placed all your eggs into one basket and lost them.
Yes, you should have a Web site or eCommerce site to sell your wares, no doubt.
But there are many opportunities to actually meet people face to face and hand them your sales material…
…And Brochures are a perfect solution for an opportunity like that.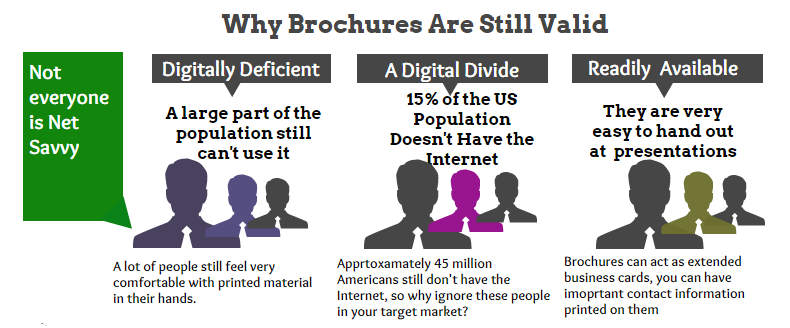 Let's consider these simple facts:
It's much easier to hand someone a brochure than suggest that they navigate to a webpage to see your sales material
Not everyone is Net-savvy. There's still a large part of the population out there that doesn't know how to use the Internet
15% of the US population (approximately 47 million people) still don't have Internet access. So, if you're just doing digital marketing, you're going to miss out on that segment of the market place.
Brochures can be sent through the mail. If your prospects are even mildly interested, they will at least glance at what you've sent them.  On the Internet it's too distracting.  One click and they're gone
Brochures lay around the house longer than an online advertisement which is digital and on a computer screen
Brochures can also act as extended business cards: you can have your name and phone number printed or stamped right on them
A brochure will be directly in the hands of prospects if you've handed it to them, or they've gotten it through the mail. Not so with TV ads or the Internet. One swipe or click ― and you're done
Most people alive today were raised on printed materials. They feel very comfortable with it and that trend is continuing, especially with the growth of large book chains and online businesses like Amazon
One of the best reasons for a business to have a brochure is so that the sales team has a visual representation of what they're selling.   Almost all sales presentations need a visual aid of some sort and brochures are perfect for that.
One of the reasons why brochures aren't very effective is usually because the copy and layout hasn't been written and developed professionally.
Many businesses throw theses marketing pieces together haphazardly without the slightest thought as to how the copy is written or how the brochure is laid out.
So, in this post, I'm going to show you how to build a dynamic and compelling brochure, one that if used by your business or sales staff properly, will help you convert prospects into paying clients or customers.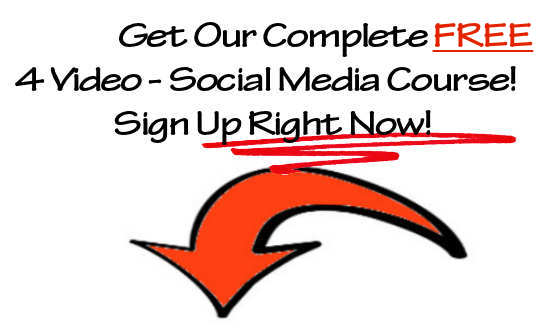 Warning: Missing argument 2 for wptr_supress_title() in /home2/ab27066/public_html/wp-content/plugins/title-remover/title-remover.php on line 16

ElmoCopy
With any sales material, research should be your first step
Planning a brochure is just like planning any other marketing piece or strategy.  You need to specifically create it for your target market.
Consider these factors while planning your sales material:
What niche or need in the market does your business fill?
What problem do you solve for your target market?
What are the biggest benefits you can offer a prospect?
What desires or fears do they have?
What steps of the sales process can your brochure help your or your sales staff with?
The more intelligence you have on your prospective clients and customers the better off you'll be, and the easier it'll be to create your brochure.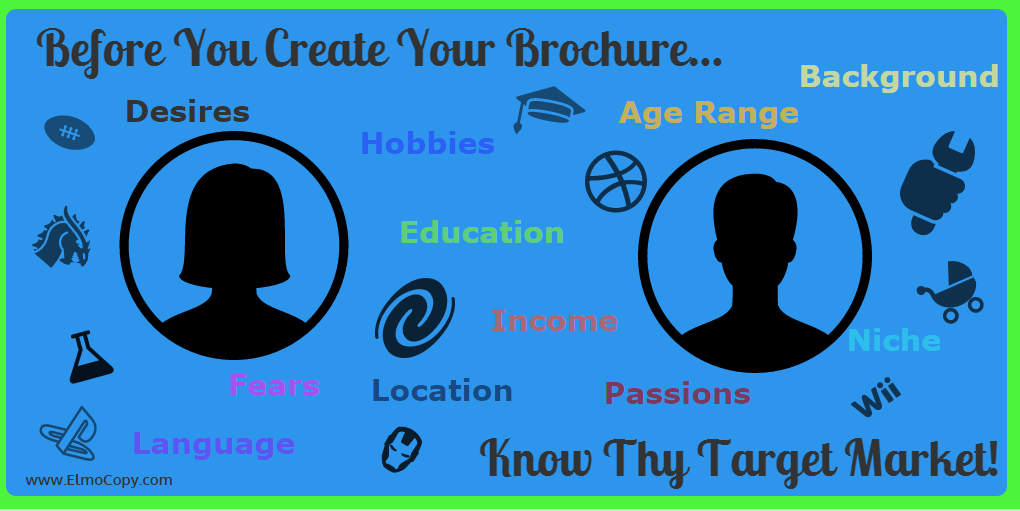 If you don't have a clear picture of the type of prospective customers you're courting, there's a detailed section of this blog post I wrote that deals with this problem:  Copywriting Resources
Something to consider before you start putting your brochure together.
You may need to figure out exactly what the function or role of the brochure is as it relates to your sales process.
If you are going to be selling pharmaceuticals your brochure is probably going to talk about more than one product .  If you are selling a particular luxury vehicle, then you'll be using the brochure to point out all of the different benefits and features of your product.
Here are a few different roles your brochure can play in the selling process:
Role 1 ― Selling services
If you're using your brochure to sell services, you will need to include the following information in your brochure:
Introduction ― Have a section that details the kind of services your company provides and why your company is the one the prospect should choose over all the others. (Unique Selling Proposition or USP)
Procedure ― How does your company handle the business with clients
List of Services ― You'll need to describe to your potential clients the exact different services you offer
Benefits ― This is like the backbone of your copy. This is where  you'll tell your prospects what you can do for them with the services you have to offer
Your Biographical Information ― This is where you should try to highlight your experience as it applies to your services
Testimonials ― Any accolades you can present from clients you have serviced in the past is a massive plus in selling your services or products
Fees and Terms ― This section will tell your prospects how much you are charging in a rate table as well as the terms of your services
Call to Action ― As usual, you'll need to tell your prospect what the next step in hiring you is. Whether it's calling or emailing you, or sending in a reply card, this is absolutely essential
Role 2 ― The Company Brochure
Corporate Brochures are like printed representatives for a company.  These are used as supplemental information that helps the prospect know more about the business they are dealing with.
The best way to describe the function of a corporate brochure is basically reassure or give the prospect a security blanket on his or her way to making a decision.
For example, a prospect that is preparing to buy investments from an investment company, will want to be reassured that they are going into business with someone that has a solid foundation (rather than someone like Bernie Madoff).
So, considering the nature of the corporate brochure, you'll probably want to have the following elements in the copy of your material:
Corporate Philosophy –  This is basically your company's mission statement and the standards it holds
History of Your Company – How many years your company has been in business and how it has fared in diverse situations during that time
Corporate Structure –   This will outline the divisions, departments, branches and other structural features worth noting in your company.
In addition to those elements above, there are all sorts of selling points you could cover in a corporate brochure, like:
Awards your company has won
References to articles written about your company
Where your offices are located
Number of employees
Years in business
Sales volume or records your company has set
Markets your company deals in
How your company ranks in the market
Area your company covers geographically
There's a load more you could put into a corporate brochure, depending on the size of your brochure and how much you want to add to it.
Role 3―The Product or Catalog Brochure
Of course catalog brochures are the same as product brochures except they're representing a group of products rather than a single one.
One of the glaring errors I've found with much of the catalog copy I have read in the past is that it takes too much for granted.  What I mean by that is the writer has assumed that you know exactly what he is talking about.  He is using terms and slang that is going totally unexplained.
Yes, you need to write to your audience; however you don't want to kill any possible sales that are coming from people that are not savvy or new to your market.
Insert image with copy for range finder here
 Taking into consideration these issues, you'll need to use include these points into your product brochure:
The Introduction – Try to briefly describe the product, what it does and how it will benefit your reader. You need to point out the main benefit here if you can
More benefits – Unless your product is a Popsicle stick, it'll probably offer a wide range of benefits to your customers. You'll need to pack as many of these into the copy as possible
Features – This describes the color, make and model and other things the customers might find important. (Please do not confuse Features with Benefits.  In my humble opinion, features are important, but benefits override everything else.)
Who the Product is Made For – This describes who will benefit the most from using this product
How it Functions – This tells the customer how the product works as well as what it can do for them.
In addition to the above information, you'll need to include the following information:
Pricing
Support
Technical Specs
Brief Company Summary
Guarantees or Warrantee Information
What organizations your company belongs to like the Better Business Bureau
You also may want to have a section that answers any of the common questions that your company may have been asked in the past about the product or products.
So as you can see, you'll need to plan differently for different brochures.  However, using this post as a guide will help you understand the basics of creating a brochure that gets results and helps you sell your product.
X Steps you need to take to write the copy for your brochure.

Step 1 Researching 
This is where you'll save most of your time writing compelling copy for your business's brochure.  Even though you'll probably want to jump in with both feet and start writing, you'll be far better prepared to write the copy for your brochure if you follow these steps.
Gather Information
If your company has already been promoting products or services, then this should be an easy way to do research.   You need to collect up all the information possible on the products or services.
Note:  You might hear from someone within your business or company that since this is a new product or service, there isn't any available material to give you in creating this brochure.
Hogwash!
Whenever I get a client that tells me stuff like, that I politely part company with them, unless they heed my following suggestions.  I ask them for any reports, technical drawings, specs, internal memos, etc. anything that I need to get my hands on to get started.
So, when you have been tasked to write the copy for a brochure in your company, make sure you gather these resources before you get started:
Previous brochures
Articles written
Catalog copy already used (Make sure to update, if needed)
Any annual, biannual, or quarterly reports that your company may already have on the product or service
Specs on products
Internet ads or websites
Technical reports
Comments from users
Notes from developers
Any PowerPoint notes used in presentations
Videos online that explains your product or services
As a copywriter, you'll probably be working with a designer in the production of a brochure.  Taking on the responsibility of creating the actual design of the brochure is usually outside the scope of a copywriter.
However, if you do have the ability to create the design of the brochure and do it competently, make sure you charge the client for it.
Clients will be more than delighted to have you do the writing as well as a design and think of it as one price, so you could easily get
Personally, as a graphic artist as well as a copywriter, I'd be more than delighted to do the design work. However, I am not a professional designer and from a copywriter standpoint it is better to leave it to professional graphic artists to handle the design.
Having said all that, I will tell you that your input to the graphic designer will be important.
You should be able to create charts and graphs for the designer using Microsoft Word's Chart tool under the Illustrations section of the Insert tab.
To find this section, click on Insert à go to the Illustrations section à click on Chart
Here's a 4 minute video that explains how to create a chart in Word.
Not only should you present charts and graphs, but you should also have the following:
side bars – These are small boxes that usually have additional information in them
quotes – These are quoted areas in your brochure that draw attention to a point or statement made by someone important to the company
Any clip art images, pictures or other graphics that are relevant to the piece
If you want to create a quick mock up to give either the client or the designer to give them a general idea of which direction to place the copy there's a great online tool that'll help you do this.
It is an online brochure design interface that you can use for free called Canva.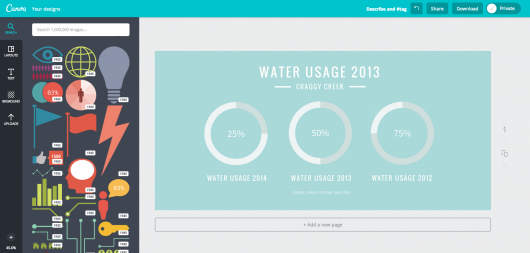 Canva is extremely similar to many of the free infographic sites on the Internet.  Because it has a simple interface you can easily create a mock up to show to a graphic designer to help them out.
To see how Canva works, watch the video below:

 Step 2 Outlining Your Brochure
Once you have gathered up all of your resource material, you can now begin to put together an outline of your material.
If you're not accustomed to putting together an outline, you should know that an outline is just like a skeleton.  It's the foundation that holds and strings all of your writing together.
While you really don't need to create a college level outline, you should at least try to sketch out your main sections.  Here is an idea of how you could create a halfway decent sketch of a product brochure:
Introduction – This will tell your prospects what your product is all about. You could also go the traditional copywriting route and create an eyeball catching headline that'll make people want to read more of what you have to offer.
I once saw a headline on a brochure for a group of rental offices  that was an old historical house.  The caption read: "Rent Your Own Place in History"  Nothing real dynamic, but it made the copy more interesting to read than, "Offices for Rent".
If you're having a hard time writing headlines, here's two great posts on how to do that:
Neil Patel's Step by Step Guide to Writing Powerful Headlines
 Jon Morrow's 52 Headline Hacks
Benefits – These are points that tell the reader or prospect what the product (or service if it's a service oriented business) will do for them. These are probably the most important aspects of the copy itself.
III. Features – Features are highlighted parts of the unit that will also be beneficial or helpful in using the product.  Once again, not to be confused with benefits that tell the prospect what the item will do for them.
Applications – What the uses of the product are.
Product Types Available for Purchase – This section will basically explain the different types of makes and models available and what their sizes and colors are.
(If you're promoting a service with your brochure, you can talk about the different types of services you can offer a client, as well as advantages and extra help you offer as a part of your package.)
Technical Specs – Usually depending on the product you're selling, you'll have to include all sorts of information vital to running the unit such as:
safety instructions
storage conditions
moisture issues
temperature tolerances
geographical operations (as in the case of cell phones)
how to clean the unit
compatibility with other units and operating systems
VII. Company Background – You will want to show the reliability of your company or business in this section.  If you belong to any associations or reputable organizations that lend credibility to your organization, you'll want to put it here.
VIII.  Support and Service – This is where you'll want to place your warranty information as well as repair policies,  installation instructions and training available information.
Call to Action /Ordering Information – You should tell your prospects about the kinds of credit cards they can use to order with, as well as how they need to place the order. Also, if you have branch offices or sales representatives how they can contact them.
Once again, writing for a product and service is slightly different and can follow the same outline pretty much the same way.  Of course, you'll need to describe your services and treat them in much the same way you would a product.
(Actually, many business owners look at their services as if it were a product, so that may make it easier for you to think about your service related business that way while writing your promotional piece.)
Outlining your brochure is a time consuming, yet vital step in getting your copy written.  You really need to do it no matter how much you want to skip ahead and start writing.
If you are having difficulty putting together an outline for your brochure, you can navigate to this free online tool to help you organize your thoughts:
Cambridge Rindge and Latin School Outline Maker

Step 3: Writing the Brochure
Once you have your research completed and your outline fleshed out, you can now begin to write.  I can guarantee you; if you've taken those preliminary steps in preparing to write, your task at hand will be much, much easier.
In addition to a great headline at the onset of your copy, you'll want to follow these guidelines while your write your copy:
Make subheads just as punchy as your headline – Subheads are just like mini headlines for each section of your copy. Instead of having a subhead that says, "How to Contact Us" you could write "Call Us – We're here for you!"  Sounds more interesting that way, doesn't it?
When you're writing a brochure, remember to write like you are sitting in a coffee shop next to the person, explaining to them what they need to know. Nothing sounds more boring to a reader than to listen to a college dissertation on how the Sonic Coffee Maker works.
Remember to write in the voice of the culture you're selling in. Writing for a hunting enthusiast is totally different than writing for an accounting client.  There's different terms and even slang that can be used to promote your product or service.
Remember, you are actually leading the prospect through a decision making process, so try to have a logical progression to your writing.
Use bullet points to point out different benefits and features. These short statements should be short and punchy, separating all the different points the prospect needs to know to make an intelligent decision.
Make your prospect want to hang on to the brochure. If you're selling cookware, including measuring charts comparing cups to tablespoons might come in handy. If you have a resort, a nice, detailed map might make people want to hang on to your brochure.  A list of helpful tips and tricks always make people want to hang on to your material.  Try to brainstorm ways you can get prospective customers or clients to want to keep your brochure around.
Finally, have a good call to action (CTA) and ordering information. There's a good reason why you see "Call Right Now" prominently displayed in every infomercial.   Also, if there is ordering information, make sure you take your time and make it fool proof.  A good rule of thumb is to give a prospect several different ways they can order from you.  The more easy ways they can order, the more likely they are to place one.
Conclusion
Yep, planning and writing your brochure is a lot of work, but if you plan it out, you can save a lot of time and have a far more successful promotional piece that you can use for years to come.
So, go forth, build your brochure and use it every chance you get.  It'll last you for years and bring in clients like you never thought possible.
To your continued success!

Mark "Elmo" Ellis
~ Mark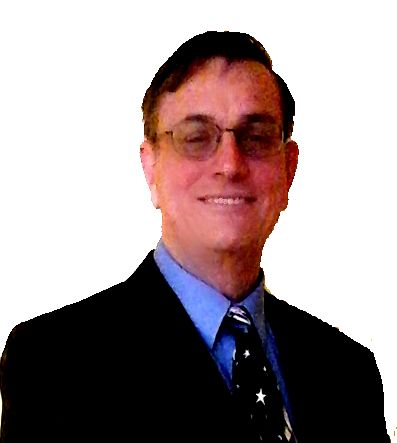 "Elmo" Ellis is a freelance copywriter that specializes in writing for education software and recreational vehicles.  He is absolutely positive that you have a project waiting in the wings for him to work his magic on.
Call him immediately for a free consultation. (859) 797-9560
Or email him at: elmo033057(at symbol)gmail.com