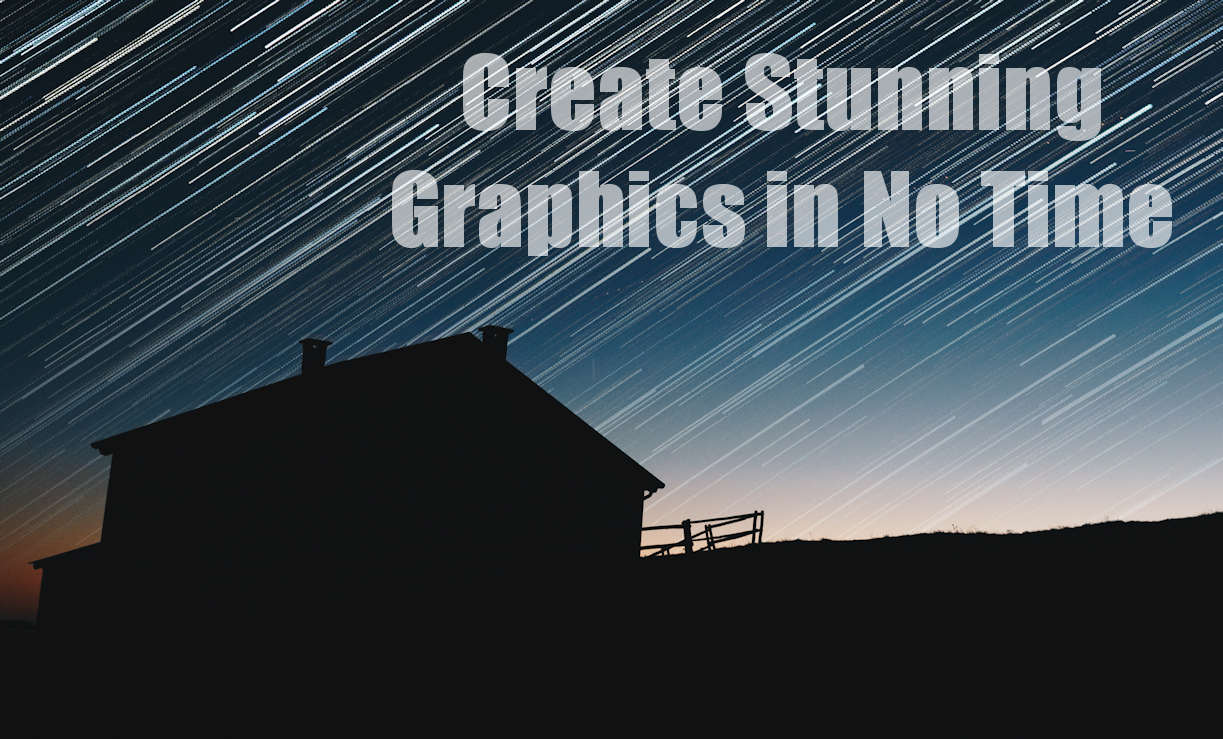 Get my Premium Content Here
Sometimes you have to act fast.  You've got copy that needs visuals and you don't want to waste time trying to learn how to use complicated software.
The whole idea behind using computers and software was to make life easier, right?  So, wouldn't it be great if you could use an online graphics program to get your work finished fast and still make it look pro?
Fortunately, there are sites where you can create beautiful graphics and design work quickly and easily.  In this post, I'm going to reveal to you a site that can make your posts, brochures, presentations, and sales letters stand out from all the rest of the noise.
The best part?
It'll be a snap!
As you've probably already guessed, this is a blog about copywriting and blogging and how the two are related.  No big revelation there, and I am not the first one to come up with that idea.
One of those sites is Visme and I'm going to show you how it can make your life much easier.  On this post, I'm going to give you 3 reasons why you should be using this program in your writing and marketing.
I.  Visme is Much Easier than PowerPoint
Visme is a site where you can create presentations that are similar to PowerPoint's.  With Visme you can create professional looking presentations and graphics lightning fast.
Don't get me wrong, I just finished a 180 slide presentation that had 589 pictures for a school event using PowerPoint, and I'm very happy and comfortable with it.
But if you want to create a slick online presentation, complete with pre-made graphics, I'd use Visme.
Because you don't have to create visuals or dig through your own archives to find them, you can grab stunning backgrounds, infographics, and images with little or no hassle. Visme has a simple interface, so you can grab graphics and drop them into your presentation with ease.
The site is also set up in a presentation setting so that you're already creating a slide show from the start.
II. Very Easy to Create Headers
If you need to create a header for your blog, you can do so quickly,  You can choose from thousands of Visme's beautiful photographs.
Just to show you how easy it is, let's go through this process step by step.
Step One:
Once you've gotten a free account and signed in, you will be treated to a screen that looks like this.  To get started, click on "Create New Visme".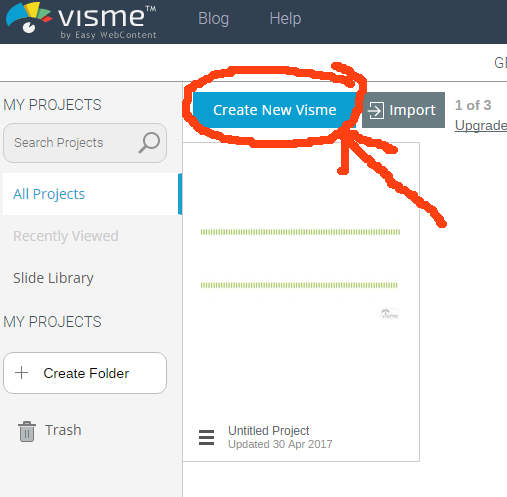 Step Two:
Next, you'll be treated to a screen that will ask you to name your project. Once you fill out the field click "continue".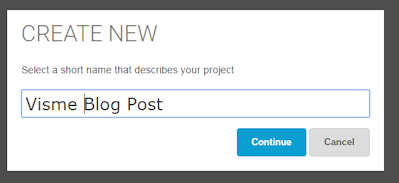 Step Three:
The next screen will ask you what you will want to create.  In this case, I'd like to create a header for a blog post.  So, I'll click "blank".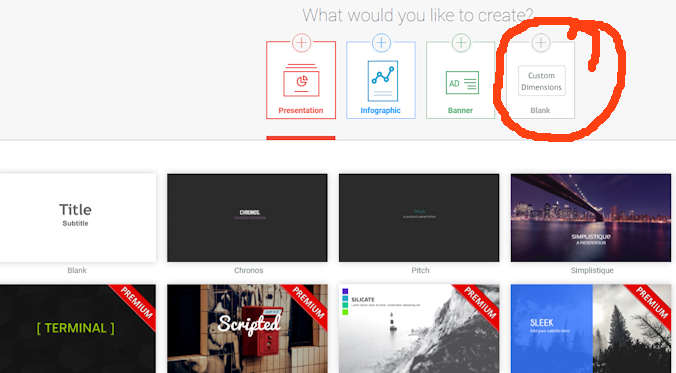 Step Four:
On the next screen, you'll be asked what dimension sizes you want for your image.  Type them in the fields.
For my banners, I like to use about 640 by 427.
Step Four:
Next, a screen will open up that has an interface so you can start creating your masterpiece.  You'll see a toolbar on the left side of the screen that has your typical functions.
From top to bottom you have Background, Text, Shapes, Images, Charts and Data, Video, Audio and Embed.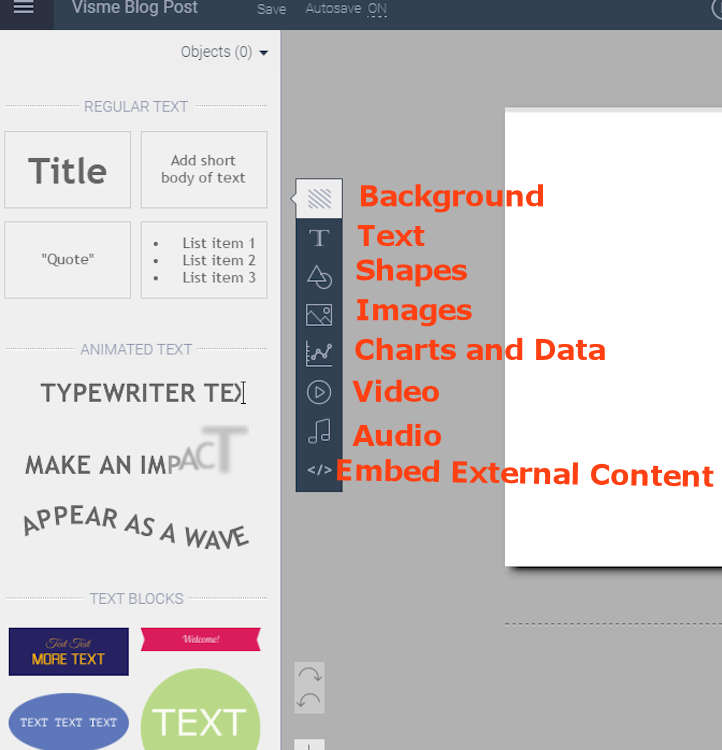 For this project I'll choose my background image first and then add some text after that.
Step Five:
Click on the Images button to add a picture.  You can type in a keyword into the search field.  In this case, I typed in the word "Joy".  You'll notice that my image exceeds my image field considerably.
I'll fix this later.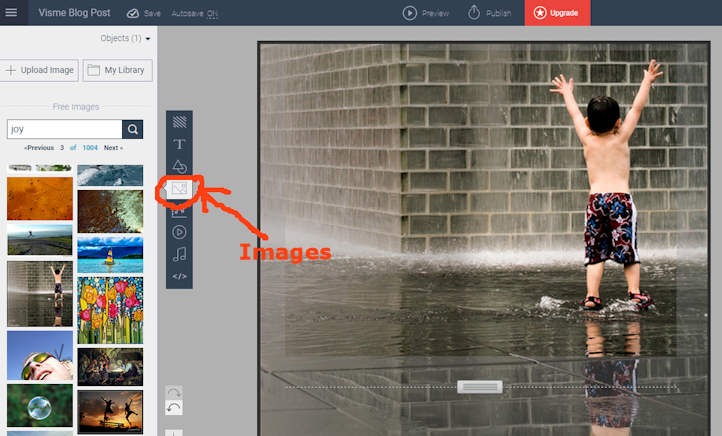 Step Six:
Now you can click on the Text tool to add your message to your image.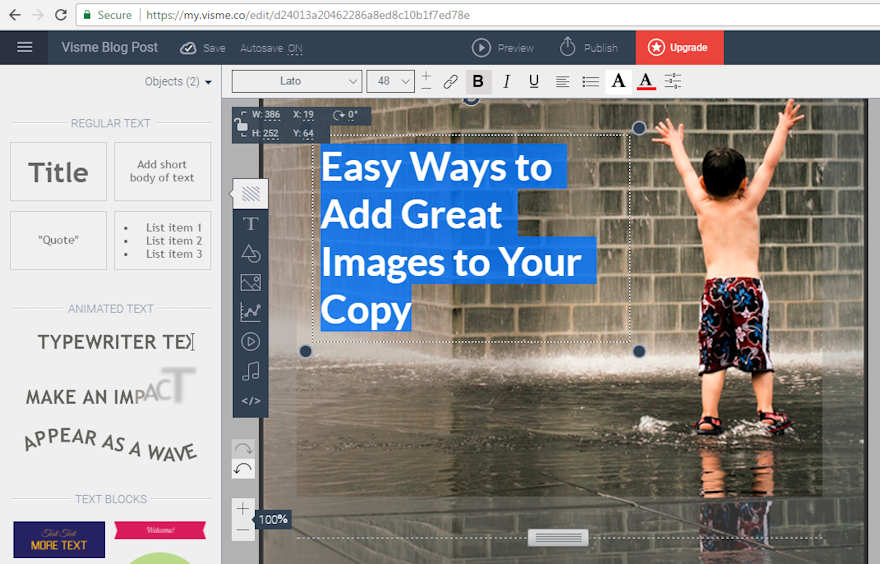 If you look to your left, you'll see that if we were doing a presentation, we would have the option of using moving text.  However, since we are creating a header image, we will use the standard text tool functions.
We can resize the letters, add color and change the font size very easily.
Step Seven:
Click on the "Preview" button on the top of the screen.   Visme will crop your image to the size of the area you specified in step three. You should see your image with the Visme branding on it.  If you want to have it without the branding you'll have to pay a small fee for your image.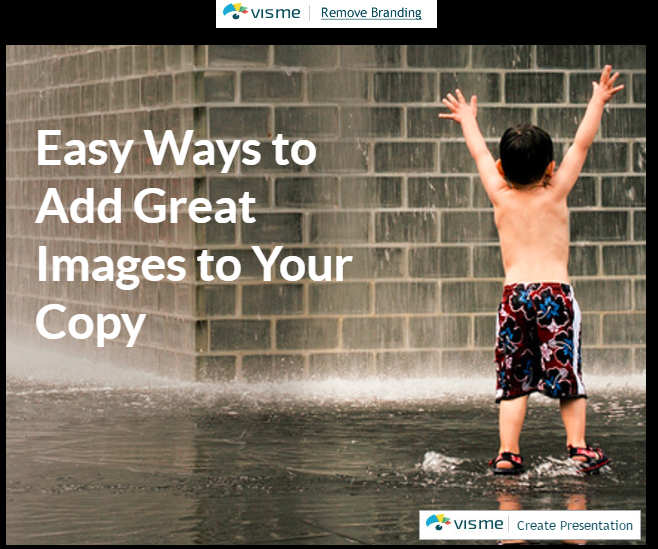 II. Getting the Word Out With Slideshare
One of the best things about Visme is that it will allow you to create great slide presentations very fast.  If you can create first rate slide presentations and get them onto the net, you'll have a piece of marketing that'll work for your business for years.
  Because Visme's main specialty is helping you to create great slide presentations, you can make professional looking presentations in no time and then have them uploaded to sites like Slideshare.  
II.  Creating Engaging  Infographics
As any serious blogger can tell you, having engaging and relevant images is a must if you are going to keep people from bouncing from your site. If you are writing any type of post that requires data, infographics are the way to go.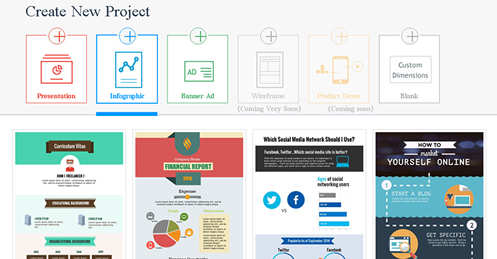 Using Visme you can create wonderful graphics and choose from hundreds of different templates.  Copywriters and bloggers like to be able to swipe ideas from resources they have collected, and using these templates makes the job of designing an image easier.
There is another way you can create an infographic from Visme, and that is to create it from scratch.  If  you're working from the main design area, you can use the charts and data button to access all sorts of data graphics to add to your copy.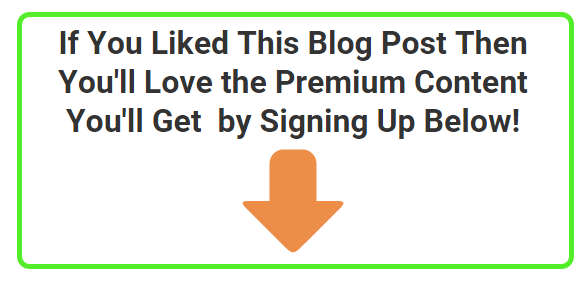 III. Banner Ads
If you write advertising copy and need to have banner graphics made for your words, you can always use Visme to create them.
Just like the infographics templates, Visme has loads of templates that you can choose from.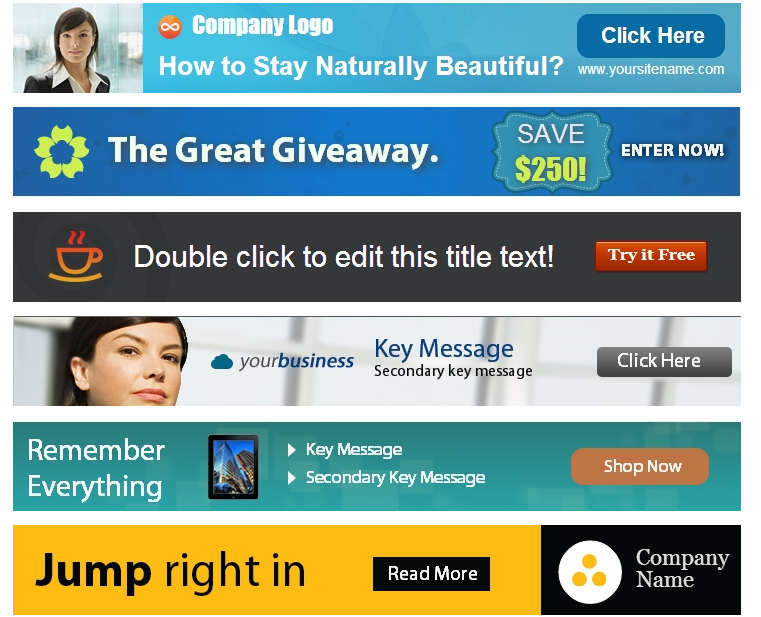 All you have to do to create an ad is select the template you want and begin adding your text to it.  The procedure is very similar to the blog image I made earlier.  Very easy and fast to get your graphics work done.
Of course, Visme has thousands of icons and images to choose from and you can eat up a considerable amount of time looking at them.  Once you know how to navigate the system, you should be able to find the type of graphics you are looking for.
Conclusion
The best part about a system like Visme is that it will save you the most important resource that you have…Time.
Of course, if you use it on a regular basis, you'll get faster at using it and you will be able to knock out stunning graphics for your writing venues in no time.
Please comment below if you have any experiences with Visme or would like to add any ideas you may have about the site.