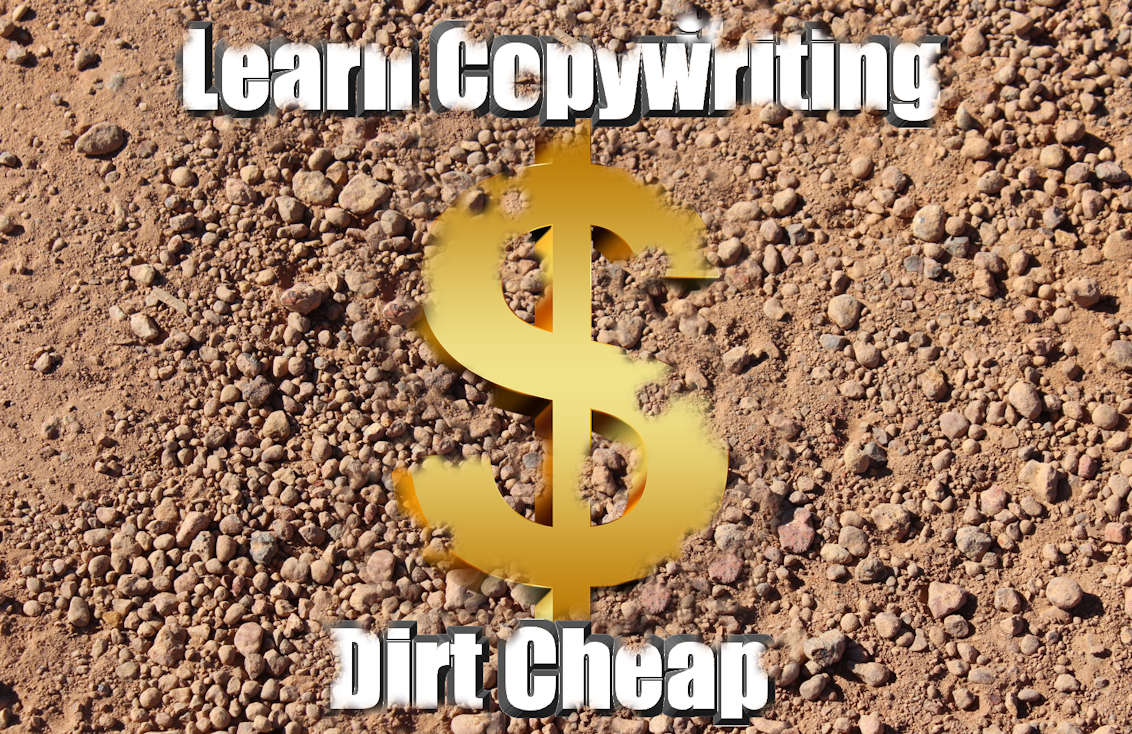 Get more out of my site HERE.
Learning how to write advertising copy is an important marketing skill. Even if you don't master the craft, you should understand what good copy looks like.
Years ago, I decided to learn as much as I could about copywriting. So I set out to find the cheapest, yet best sources of information I could on the subject.
Because I love a good bargain, I went to the places where the best prices are  – like eBay!
Cheap Courses on eBay!
On eBay! I found all sorts of great resources from books to audio courses that I could buy for a lark. The real value was the excellent deals I got on the audio courses.
To be clear, these are some of the courses I have taken so far. Even though these courses have been on the market for years, every lesson is 100% valid.
Just because some guru-wannabe bought the stuff and never used it, doesn't make it bad. As a matter of fact, the material I have purchased from online auctions has been excellent.
The following resources are ones that I have actually purchased. Of course, by the time you read this the prices may have changed or they may no longer be available.
Dan Kennedy's Copywriting Clinic. – If you don't have any of Dan's resources on your shelf, you aren't that serious about copywriting or marketing. He is a leader in these fields, and the sheer volume of the resources he has produced is staggering.
Recorded years ago, the valuable lessons contained on this 6 CD set are priceless. This was an expensive seminar that Dan was teaching to a group of business people and released on audio CD's.
It is not a recording of a bunch of gurus giving quick speeches, but a detailed, well -thought out course.
Dan takes you step by step through the entire process of writing great copy. He teaches you everything from writing headlines to call to action sequences.
I got this on eBay! for $30 and it is an excellent course for you to get started with if you're trying to learn the craft.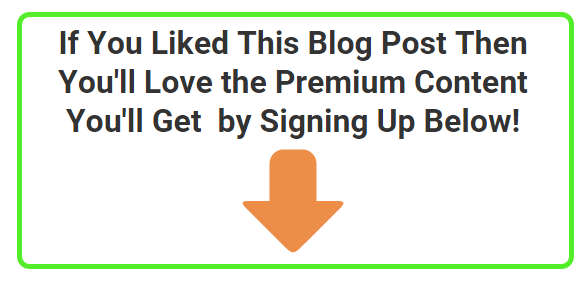 Dan Kennedy's Magnetic Marketing – This was the first course on copywriting that I bought. I used it to sell music pouches to the U.S. Army Bands world-wide and it brought in so much business we couldn't handle it all!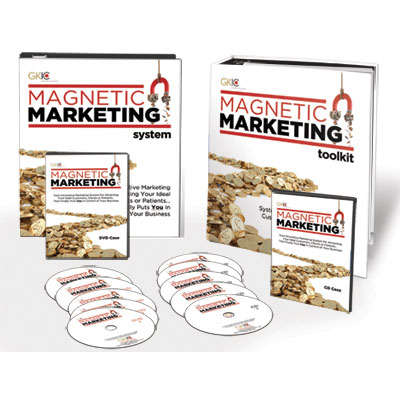 This is a huge set of pre-written sales letters that span a wide variety of businesses. Each sales letter is a template that you can rewrite and use for your own business. (Dan has released the rights for this material so you can use these letters for your business.
If you're trying to learn copywriting, studying these lessons will be invaluable. You can use them in your business, dissect them, and rewrite them.
Since I have bought this course, I have seen it many times on eBay! running anywhere from $25 to $60. Those prices are a steal for the incredible marketing lessons you can learn from this set.
John Carlton's Copywriting Courses – I have also bought quite a few of John Carlton's courses on eBay! for a fraction of the cost you would have to pay on other sites.
Mr. Carlton is one of the top copywriters on the planet. He was fortunate to have had the opportunity to work with the famous Gary Halbert as he was learning his craft.
These courses are well organized, and take you step-by-step through the entire process. I've seen quite a few of John's courses on eBay! recently in the $70 to $100 range and they are worth every cent.
The thing I liked about them is the blunt, no-nonsense approach he uses to get his point across. He also dissects his sales letters so that you can understand his entire thought process.
Great Copywriting Books from Amazon – Cheap!
Another great place to get courses and books from is Amazon.
Amazon has used books for sale as a part of their sales process. If they can't get you to buy their books at the regular price, you can get them at used prices.
Amazon has incredible books on copywriting  that you can buy for dirt cheap prices.
Here's a list of the copywriting books I've bought:
The Boron Letters – If you are new to copywriting and want to learn, you need to know about Gary Halbert. The late Mr. Halbert (A.K.A. "The Prince of Print") is the undisputed "uber-copywriter".
He once had a direct mail campaign that was so successful his bank had to hire a large staff just to process his checks. No kidding.
The Boron Letters are letters that he wrote to his son while in prison. (The book doesn't elaborate on why he was in prison or how long he was there.)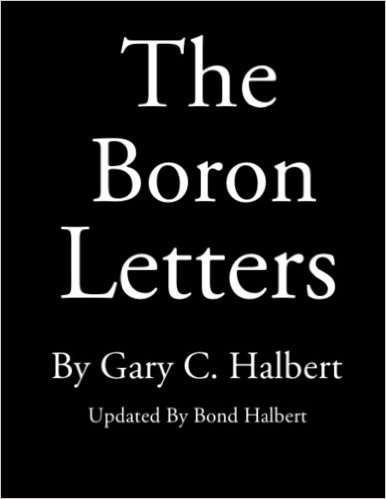 These letters not only reveal Mr. Halbert's views on life, but also on his craft.
He writes a lot about how he became an A-level copywriter and how to conduct a direct mail campaign. This book is not a course, but anyone that is serious about writing great copy and conducting a direct mail campaign should read it.
The Ultimate Sales Letter by Dan Kennedy – If I had to pick the very first thing you should buy, this would be it. The Ultimate Sales Letter is the beginner's guide to writing a sales letter.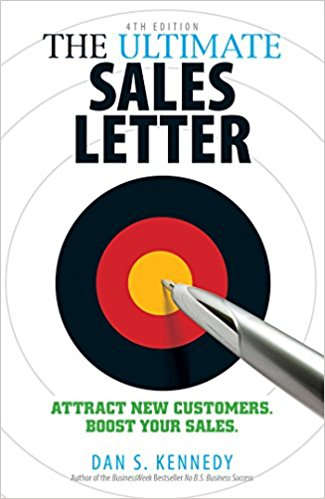 Once again, Dan Kennedy has produced an excellent resource to writing a sales piece. He devotes a chapter to each step of the process so that you'll have a blueprint that's easy to follow.
The steps are clear, and he explains each part of a sales letter. Dan uses real-world experiences to explain how the parts work together so that you'll know why they work.
Once again, this should be the first resource you should devour.
How to Write a Good Advertisement: A Short Course in Copywriting by Victor O. Schwab –   I have a disagreement with the title of this book. It is not a short course. This is a very detailed, step-by-step instruction manual on how to write advertising copy.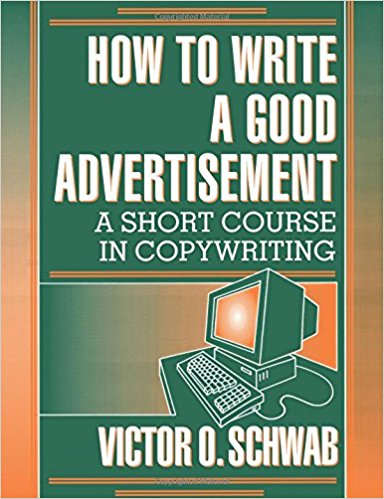 Written in 1962, this book has become a hallmark of how to write copy that sells. Schwab uses analogies and examples that help you understand how and what to write.
You will not be able to get through this book in a week because it is very detailed. Schwab even put test questions at the end of each chapter to challenge your mind. An excellent book to have in your library if you want to know how to write to sell.
Conclusion
I won't lie to you, learning how to write great sales copy is not easy. It can be learned cheaply if you start out with these resources and work diligently at it.
Like learning a musical instrument, it may take you years to learn how to write it, but once you master it, you will be able to turn money into cash.
Agree? Disagree?  Do you have other resources you'd like to see mentioned here?  Please leave comment in the space below.