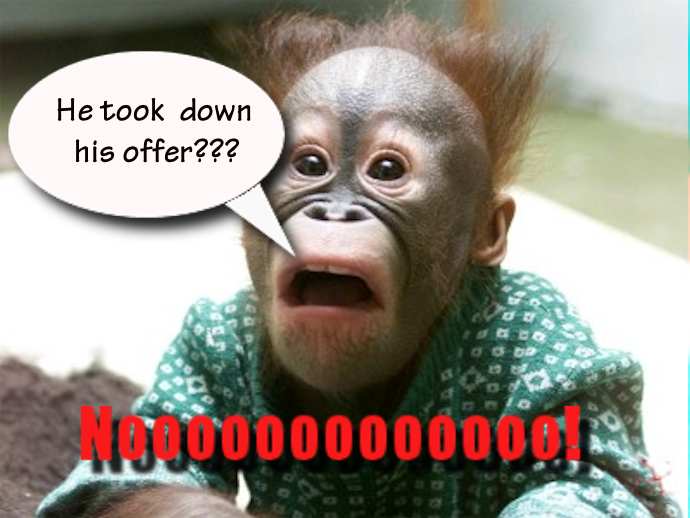 It took me several years and 3 businesses to learn how to write blog posts good enough to drive sales and get readers.
Now, I'm willing to share everything with you I've learned for free if you go to my site. I wouldn't wait too long though because in the next week or so, the developers that are working on converting my book into Kindle and Nook format will have it finished, and when they're done, NO MORE FREEBEE!
As a matter of fact, I already have the book up for sale on one site, so if you want to buy it rather than exchange your email for it, then, you can. But enough of my incredible sales banter, let's talk a bit about what you can learn from reading the book itself, shall we?
I'm sure you've heard about entrepreneurs on the Internet that are cashing in big-time using nothing but a blog.
The truth of the matter is that you can make excellent money with a blog if you know and understand the secrets that six-figure bloggers know and utilize every day.
Not only can you make excellent, full time money with a blog, but right now there's a golden opportunity to make a real killing using this information channel like never before!
Let me give you a few stats that'll show you how this is possible:
81% of U.S. online consumers trust information and advice from blogs.
By 2013, it is projected that 128 million people in the US will be blog readers.
B2B marketers who use blogs generate 67% more leads than those that do not.
23% of total Internet usage time is devoted to social networks or blogs.
37% of marketers say blogs are the most valuable type of content marketing.
On average, companies that blog receive 434% more indexed pages.
Article posting (79%) and social media excluding blogs (74%) are the most popular tactics for B2B content marketers.
As you can easily see, there's a mountain of opportunity online for anyone willing to learn, implement, and cash in on the current blogging bonanza.
The skills and inexpensive tools that are needed to make big money with a blog are available to anyone that has a computer, Internet access and the knowledge necessary to launch and write a successful blog.
Take a look at these examples of blogging entrepreneurs that are just killing it on the blogosphere:
Brian Clark ― The owner of one of the most successful blogs on the planet, Copyblogger, makes an astounding eight figures without taking any venture capital or buying any advertising!
Jon Morrow – In January and February of 2014 Jon Morrow's blog,
"Boost Blog Traffic" pulled in a sweet $100,000 a month. Jon started his blog and business with little more than a dream and the guts to go all out to succeed.
Darren Rowse ― Started blogging on a whim just to have something interesting to do, and soon discovered you could actually make money blogging. Today he owns one of the most successful blogs on the planet, making over 1.3 million dollars and year and climbing.
Michael Hyatt ― Michael was the CEO of a large publishing company that dealt with a high pressure job every day. He started blogging on the side with just an hour or so a day. Now he has an impressive following of over 250,000 followers increasing his income by 250%!
Now it's Time for You to Make a Killing with Your Own Blog!
In my new 239 page EBook, I rip the covers off the hype and bull-crap and give you the exact steps you'll need to start making money quickly and easily with your own blog while putting you on track to make a six-figure income.
In my EBook you'll learn blogging secrets like:
Why you should pick a bigger niche instead of a small focused one like all of the so called "experts" would lead you to believe. Page 13.
How to start building important online relationships that'll help you get noticed by the big players. Pages 14-17.
The best ways to immediately start making money with your blog. Page 20.
The one thing that you should definitely NOT do when starting your blog. Page 24.
How to pick and register the right domain name for your business so that you can easily get noticed on social media platforms. Page 27
How to get your own hosting plan so that it will almost cost you next to nothing to run your blogging business. Page 39.
The one resource you'll need to easily set up and start blogging in no time. Page 47.
How to step by step make your very first blog post. Page 48.
The big payoff in blogging that everyone seems to miss. Page 55.
The one big mistake everyone makes when choosing a niche market and how to avoid it. Page 57.
The step by step system for determining and choosing your niche that'll save you time and help you start making money. Page 59.
How to use online sites and make a simple chart to find a niche you can grow and profit in. Pages 66-73.
The eight essential parts of a blog post to use that'll make you look like a blogging rock star in the eyes of your audience and separate you from the average blogger. Page 77
The secret tip to creating great headlines by using two resources one online and one off that'll grab the eyeballs of your target market magically! Page 91.
Headline writing resources and how to use them when you get stuck. Page 93.
A step by step system to writing killer headlines that'll help you dominate the search engine results pages. Page 95.
The three primary reasons for writing great subheads that'll get the audience and prospects to read further than just the headline. Page 106.
What Stanley Kubrick and Victor Schwab can teach you about blogging. Pages 110 and 112.
How to use a quick and easy system to write riveting subheads that'll lead your readers through your entire post. Page 113.
How to write viral blog posts in 6 easy steps. Page 118.
7 key ingredients to writing blog posts that will increase the chances they'll go viral. Page 119.
How to write your blog posts so that the reader will actually think that you're writing to them. Page 126.
How to write incredible body copy that will interest your readers and seamlessly lead them through the entire blog post. Page 130.
How to generate great blog post ideas in 5 quick and easy steps. Page 139 .
The best ways of delivering excellent value through your blog ― Increasing your traffic and your market share. Pages 140 -147.
All the different ways to make money from your blog from the easiest ways to the hardest. Page 22.
Setting blogging goals that you can achieve quickly. Page 175 .
The top priorities for all serious bloggers ― without these tools you might as well hang it up. Page 178 .
What to do if you aren't getting any traffic. Page 181.
How to blog every day in 6 easy steps and create consistency your readers will come to depend on. Page 183.
How to get started with guest posting and get massive traffic almost overnight. Page 189.
How to brand yourself on blog comments so that your name will get recognized by the big players. Page 159.
How to become a maven in your field and separate yourself from all of the other bloggers in the pack. Page 165.
How to simplify Search Engine Optimization for your blog so that it's not only profitable, but fun. Page 206.
And I'm just skimming the eBook! There's loads of incredible information, pictures and charts to help you get on your way to blogging success!
For less than $10.00 I can get you started on the road to blogging success!
I'm absolutely sure I can help you achieve the same results that other six-figure bloggers have achieved because I've been an Internet marketer, writer, and blogger for over 10 years and built a successful e-commerce business.
I can also help you eliminate all the confusion and trial and error time wasting because I also have a Master's degree in online instructional design ― giving me the ability to lead you in a logical and simple time saving procedure that'll shave years off your learning process.
I've got the knowledge and experience to help you get started and on the fast track to making money with a blog in a relatively short period of time.
I've carefully written each chapter in a step by step manner so that you'll save years of guesswork and time wasting trying to figure out how to learn how to make money with your own blog.
I've also taken the time to study and read loads of books, courses and every post imaginable on the subject of blogging, and I believe I've been able to take the very best material online and break it down into successful steps that you can easily pick up and run with.
When you add up all of the research and time invested to put this blueprint/manual together it would equal thousands of dollars in time, money invested in courses and experience.
You can get all of this for free…right now. Simply submit your email below and get you free copy while it's still FREE!
God Bless,
Mark