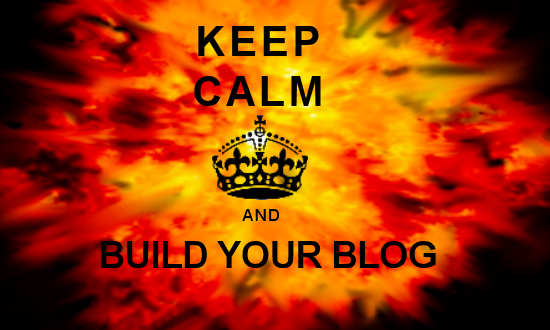 This is Part 5 in a series on how to start and write blog posts based on the art from a copywriters perspective. 
In this post, I'm going to show you how to set up a blog and get all of the technical stuff out of the way.  The goal of this post is to dissolve any fears you may have in setting up a blog and getting started blogging.'
I hope that this post will help you create a blog of your dreams and a business that you can make good money with.
I am probably the world's weirdest chicken.
Yes, you read that right, I said "weirdest".
Stuff that scares most people like public speaking, or starting a new business, or even trying to do a task that I have absolutely no skill or training at, I am fearless.
If I'm watching TV and see a person standing on the ledge of a building, I'm terrified.  If I have to stand up to someone half my size, I have to muster every bit of strength to even open my mouth.
The reason a lot of people won't start a business, or even write a book is because they're terrified.  They are afraid of failure, scared of what others might say, or intimidated they are simply afraid of the unknown.
Starting a blog or using one for your business might be the therapy you need.
It requires little money to start, and if you decide to start an online business, it is so easy to learn you'll be up and running in no time.
So, if you are starting a business for the first time from scratch, you'll benefit tremendously.  If you have a regular bricks and mortar business, starting a blog that you can easily update will be a massive help to your enterprise.
If you've been blogging for a while, you'll get a value from reading some of the strategies and ideas I will lay out in this post.
In this session, you'll learn how to:
Find a domain name and hosting
Install a blog like WordPress
Log in and create your first post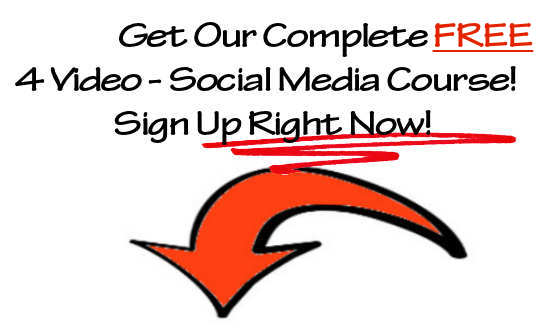 Before You Start…Don't Do This!
If you're new to Internet Marketing or blogging you may have heard that you can get a free site or blog online and that'll be good enough.
Nope.
Usually what happens with sites and services like that is they will get you to use their systems but it will be very limited and they will only encourage you to get the paid upgrade.
Take Google's Blogger for example.
You can get a free Google Blogger account and use it, but you will have a really large extension to it and that extension will be controlled by Google.  Not only that, but you will really have a large URL that looks like this:
http://ellistratedadcopy.blogspot.com/2014/02/make-massive-sales-easily-by-using-this.html
The ".blogspot.com" is the real killer in all of this.
There's a reason why this is disastrous for an online business.
Nobody will be able to easily remember a long URL (web address) like that. Compare that URL to: ElmoCopy.com …which one would you be able to remember?
It will be hard to use in online advertising, and many online ads won't accept a free URL because it doesn't look like a serious business.
Upgrading to the regular hosting service will probably cost you more money than if you had shopped around for a regular hosting service in the first place.
If at some point you decide to switch your blog to a regular URL, you won't have to worry about whether or not all of your posts can be migrated to a regular account.
All of the free hosting services are not good for Search Engine Optimization (SEO) partly because they will have very long addresses and partly because of sharing their hosting addresses with a load of people. You may even be sharing your hosting with spammers.
There are other issues with shared free plans like Web server downtime and page load time.
The bottom line to all of this is spend a little money and get your own hosting plan.  I recently got a hosting plan with HostGator and I spent somewhere around $150 for 3 years of hosting.
My domain name was rather cheap so for 3 whole years I'm spending next to nothing, and I didn't even shop around.  I probably could have gotten a cheaper deal if I had looked around more.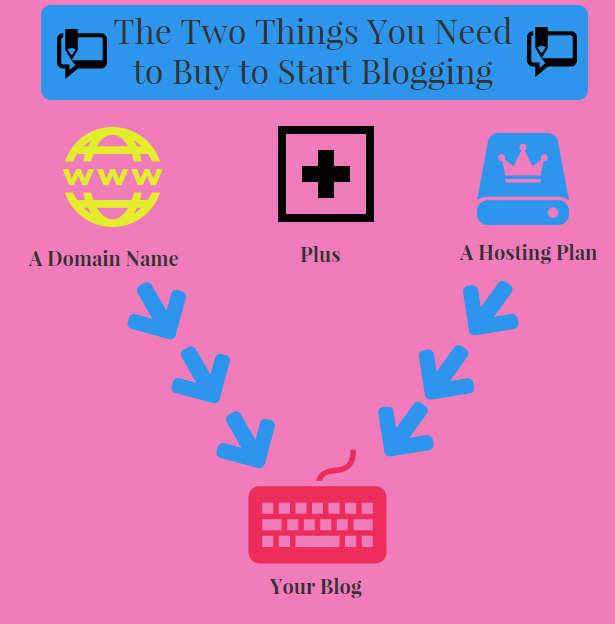 Finding the Right Domain Name
Don't over think this.
The best thing I can tell you is to try to keep it relevant to what your business is and keep it short.
Oh, and try to avoid weird characters and hyphens in your URL too. Other than that, I wouldn't worry about it too much.
If you must get a .net or a .org, that's OK, but if you can grab a .com, do it.
When I came up with the URL for my blog, it really didn't take me long at all.  My nickname was Elmo and my business was copywriting, so ElmoCopy (www.elmocopy.com) was born.
I wanted something short and sweet, so that was perfect for me.
You may want to put more thought into yours, so knock yourself out.
The shorter and simpler your URL is the better.  When I had an online embroidery business I called it Ellistrations.  A lot of people thought that was clever.
Your URL does not need to be clever, but if you just happen to think of something like that so much the better.
But, as I've already said the shorter and more relevant you can make it, the better off you are because people will remember it a lot easier. Long winded web addresses are hard to remember as you try to type it in.
Pay for Your Name
You're going to have to pay for your domain name, but you might as well get it as cheap as you can.  I got my ElmoCopy domain from a company called "NameCheap".
Currently Namecheap will let you pay only .88 cents for your first year, and every year after that is $10.88.  Pretty sweet!
However, if you want to check around, you can try to find a better deal.  Here's a few suggestions, just bear in mind these companies change their pricing plans from time to time:
Blue Host offers FREE Domain names if you get in on one of their hosting plans.  Currently, BH is offering $6.95 a year if you choose them for basic hosting program.
Even though I bought my domain from NameCheap, I've got my hosting through HostGator.  I love HostGator for hosting my site files, and in a little bit I'll be telling you a more about their hosting plans.
But for now, I can tell you that it is a great way to get a cheap domain too.
There are others you can check out that not only have services that you can buy domain names, but they also have hosting plans for you to place your domain at.  (More on this in a second.)
So, once you go to a domain registry site like GoDaddy, you'll see an interface that looks something like this: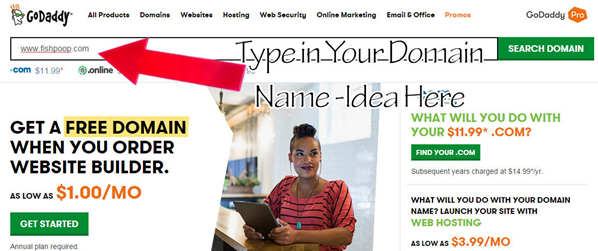 In this case, we'll type in www.fishpoop.com and see if this domain name is being used by anyone at this time.
Once you type in a domain name like "fishpoop.com" you'll be treated to another page that has the results of your domain query.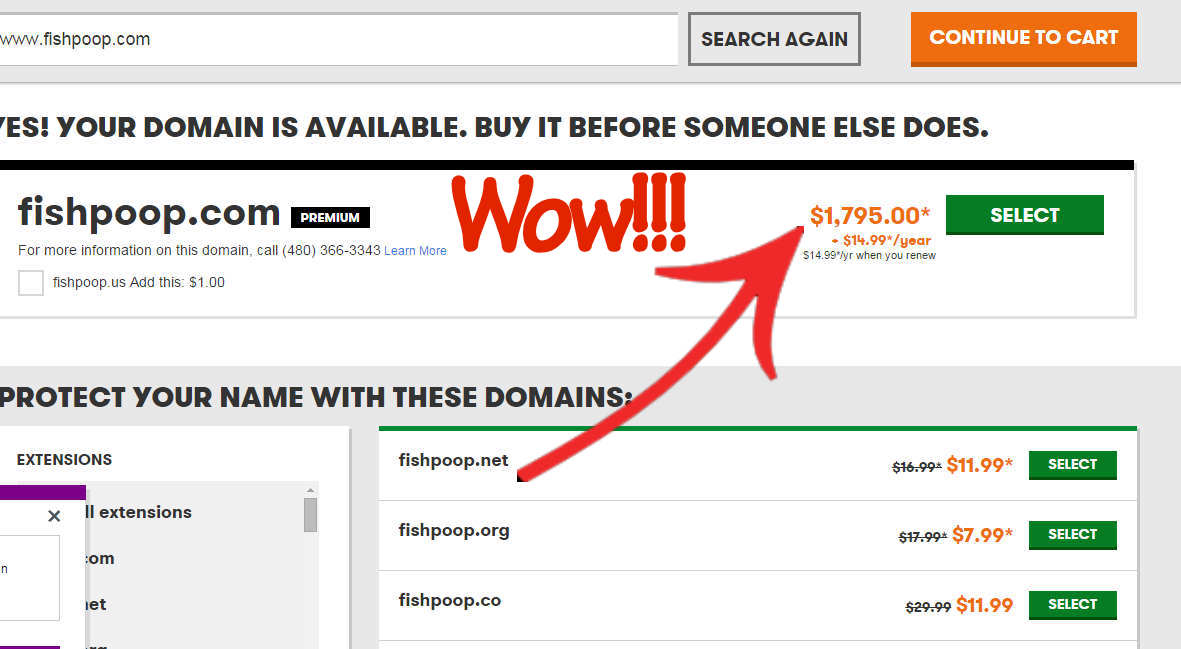 As you'll notice in our picture above, fishpoop.com has a rather large price tag on it. This isn't because GoDaddy is trying to price gouge you.
Actually, someone else is.
In this case, someone purchased fishpoop.com and is holding on to it in the belief that someone will eventually want to pay them that amount. Usually, the domain price is around $10 and the 14.99 is per year after that to keep the domain.
As it turns out, in the world of hydroponics, fish poop is used as a fertilizer. So somebody bought the domain and is now hanging on to it hoping that eventually someone will pay the huge sum of money to get it. (These types of people are called "domain name brokers".)
This doesn't happen very often, but it does happen.
Seems like a huge hassle to me, but what the heck. The domain brokers can lose out over the long haul because they have to pay about $15 a year to hang on to it until it sells…if it ever does.
Anyway, you'll notice that fishpoop.net, .org, .co, .whatever else is available will be only $8 to $11 a year, so if you are dying to get a particular domain, you'll have other alternatives.
OK, once you have your domain name, you'll want to get a hosting plan.
Getting Your Hosting Plan On
Once you get your domain name, you'll need to set up a hosting plan for your website or blog.
In case you have no idea what a website and hosting company really is, I'll try to explain it to you.  (If you already know all about it or feel that you don't really need to know, you can skip this section.)
A website is nothing more than a collection of visual files that are kept on a really large hard drive called a hosting company.
The hosting company makes these files available to bazallions of other hard drives (hosting companies) all over the world called "The World Wide Web".
When you look at these files on the Internet they are basically loaded from one of these hard drives and into your computer so you can see them.
What you really need to be concerned with is the hosting company that you're choosing which will store your web site files.
Here's a very simplified example of how that works: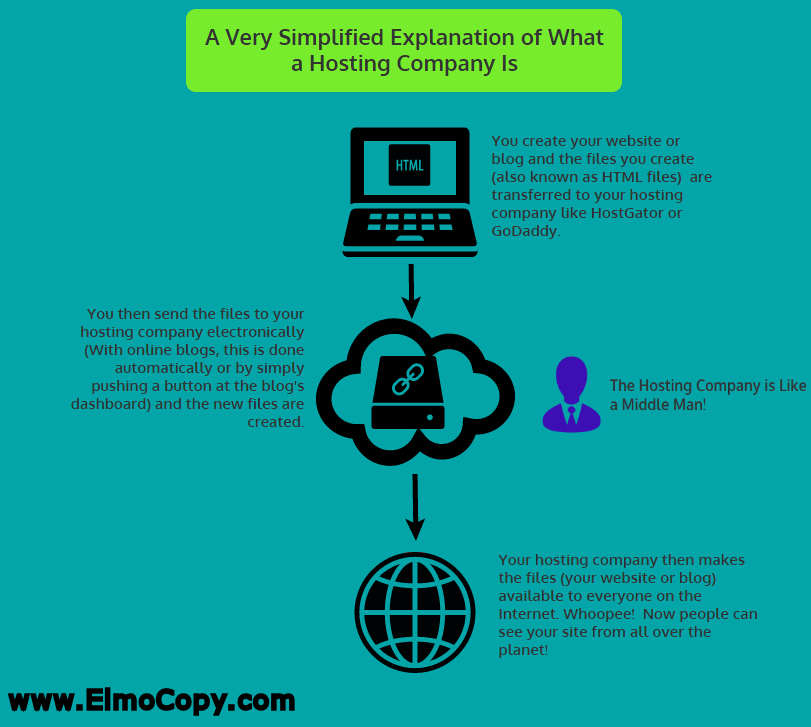 The bottom line is your hosting company is like the middle man, storing your website files for future use on the internet.
Getting Your Own Hosting Company
Getting a decent affordable hosting company is very similar to getting a domain name.
As a matter of fact, most hosting companies offer domain services so that you can buy your domain name on their sites as well as purchase their hosting services.
There are many hosting companies on the Internet and rather than give you an enormous list of them, I'm going to tell you about the two I've been doing business with.
I am not affiliated with these companies in any way and I do not make money from them. So, you're going to get the pure, unadulterated facts on these two companies.
GoDaddy is a well-known hosting company that has established itself as one of the industry leaders. I usually buy my domain names from this company over the years until I bought my last domain name with NameCheap.
GoDaddy is an excellent company with a great track record. You can buy both your domain name and hosting plans from GoDaddy and they also have an excellent support staff.
So if you get totally lost, you can either call their support staff or call them on their toll free number that's running 24/7/365 and they will tell you exactly what to do or they will actually do the work for you.
HostGator is my company of choice when it comes to a hosting company. I have had several different sites with HG, and I have been a loyal customer of theirs for about a decade.
I used to have an online embroidery business called Ellistrations. This was basically an ecommerce site where I sold personally embroidered musical instrument apparel.
I had customers all over the world and started to gain a lot of traffic. The hosting company that I had used for years got purchased by another company. That company was run by flim-flam artists that tried to fleece me out of a lot of money.
They immediately (and without warning, I might add) started charging me for "extra bandwidth". And the charge was very substantial.
To cut a long and horrible story short, I cut the other company lose and discovered HostGator and it has been the most wonderful hosting service I have ever used.
HG has awesome customer service and a superior support staff that is world-class. No matter what time of night or how big the problem is, they'll handle it for you or at least tell you how to fix it.
One other feature I love about companies like HG is their chat function. You can almost immediately talk to a skilled techie and have him or her fix any problem you may have. The people are always friendly, courteous and kind at HG, and that's why it's my hosting company of choice.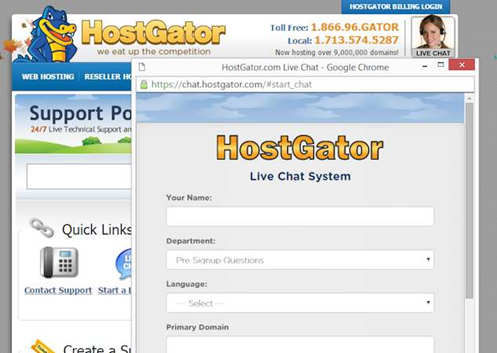 So, just to recap, make sure you hire a good, reputable hosting company. If you don't, you could lose years of work building up your traffic only to lose all of it to a lousy hosting company.
Setting Up Your Blog
Once you get your domain name and have a subscription to a reputable hosting company, you'll need to set up your blog.
If you have an awesome hosting company as I have recommended, you can get one of the hosting company's awesome support staff to get your site set up.
With a company like HostGator or GoDaddy, there's a quick and easy way to set up your WordPress Blog.
Once you've bought your plan with HG, you will be sent your hosting name and your password information. Make sure you file these in a place where you can find them.
Once you have those in your hot little hands, you can log into a thing called your Cpanel.
Basically a Cpanel looks something like this: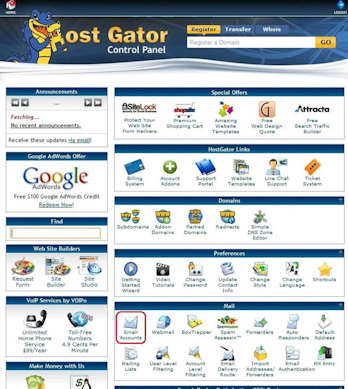 To get to the place where you can set up WordPress, scroll down to the Software Services section and click on the "quick install" icon.

After you do that you should see a section that looks like this: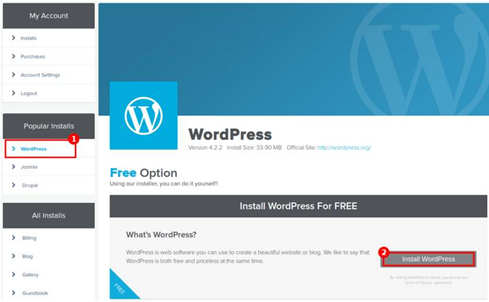 Next click on "Wordpress" (#1) on the left and then "Install WordPress" on the right.
You will be then sent to a set up page that looks like this:

Here's all of the stuff you'll need to fill out.
#1 Is your domain name. Fill it in just as your hosting company tells you to.
#2 This is a subdomain. That is usually used when you want to attach a similar domain to your account. If you are just starting out, you will not dealing with this, so leave it blank.
#3 Give a regular email address here where you can be contacted.
#4 Type in the Title of Your Blog.
#5 Give Yourself an admin user name.
#6 Your first and last name.
Once that is all filled out, all you have to do is hit the "Install" button and your request will be processed.
You will receive your WordPress login information in an email from WordPress.
Accessing and Using Your WordPress Blog
To access your WordPress Blog from the Internet, type:
www.yourdomainname.com/wp-admin
The instructions usually tell you to do this when you get your email address.
If the instructions that they send you are different than this, then follow those instructions.
Once you type in the domain name as I have indicated above, you should see a login like this: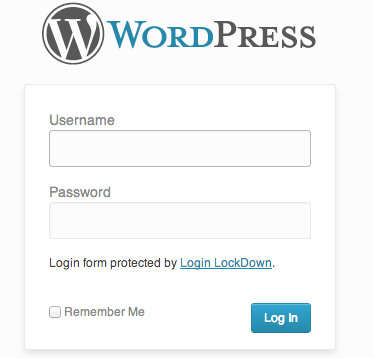 Once you log in to your account, you'll be treated to the WordPress Dashboard.
Using the dashboard will take you a little time to learn how everything works and I would suggest you purchase a current book on how to use all of the features of WordPress.
I would suggest WordPress for Dummies. I personally love using the "For Dummies" books because they get straight to the point and chew your learning curve in half.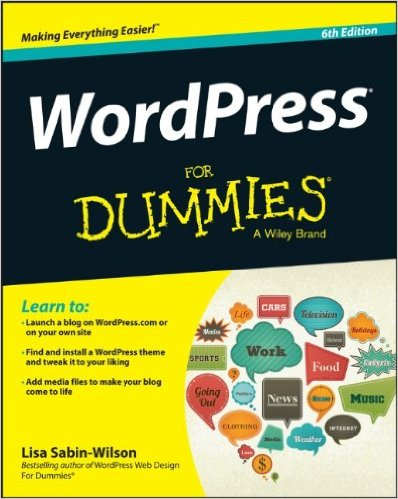 I've learned so many different subjects using those books that I can't count them all and I highly recommend them because they are also fun to use too.
If you don't want to buy a book on the subject, you could easily find one of the many excellent websites on the Internet that is dedicated to teaching WordPress.
Here's a few excellent sites that will help you learn WordPress:
Learn WordPress – This is a very organized site that shows you how to get started using WordPress and is broken into easy to learn sections that should get you up and running in no time.
WP Beginner – The lessons on this site are broken down into days so that you won't feel overwhelmed.  On Monday, you'll learn how to set up your WordPress Blog.  On Tuesday you'll start out with your first blog post. On Wednesday you'll…Well, you get the idea.
You could also very easily find YouTube videos dedicated to the subject as well.  Here are a couple of videos that'll help you get started:
WordPress Tutorial for Beginners 2016: Step by Step Build Your Website
How to Write Your First WordPress Blog Post – This video is excellent and very professionally made.  It is produced by PCClassesOnline.com
Making Your Very First Blog Post
I would highly recommend watching the video above on how to make your first blog post.  However, I will briefly touch on it here.
Once you log into your WordPress (WP) blog you will be treated to an interface called a "Dashboard".
It looks like this: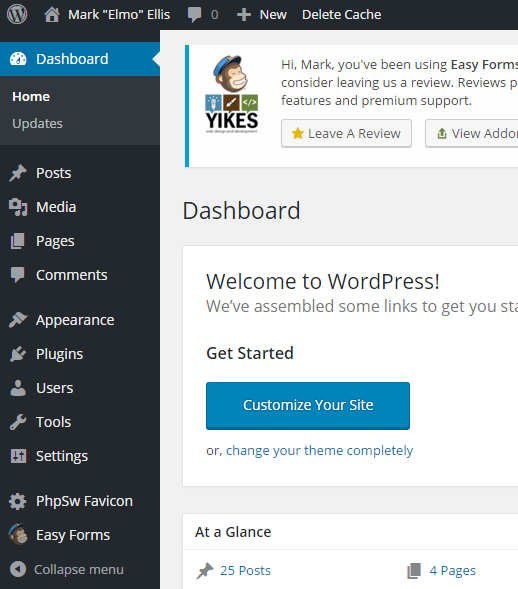 Using the Dashboard you can do many wonderful things with your blog, to include selecting templates that will decide what your blog will look like.
Accessing the books and videos above, you can easily learn how to do all of these things.
But for right now, we're going to start learning how to write into our blog and make our first post.
Click on the selection on the left that says "post".  You should get a screen that looks something that looks like this: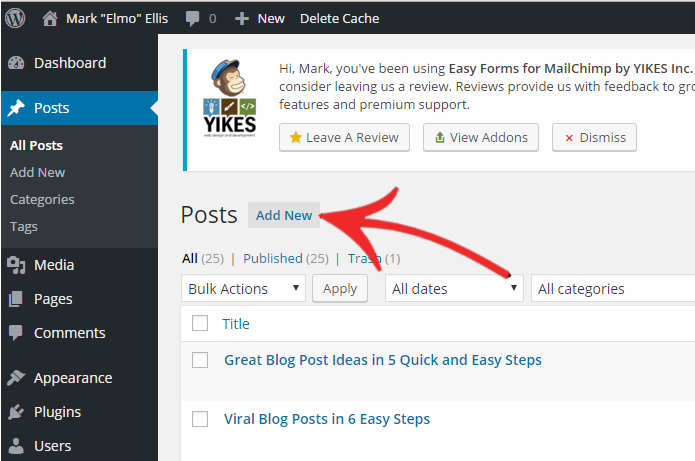 You'll want to click on the link that says, "Add New".
You'll be taken to a screen that looks like this: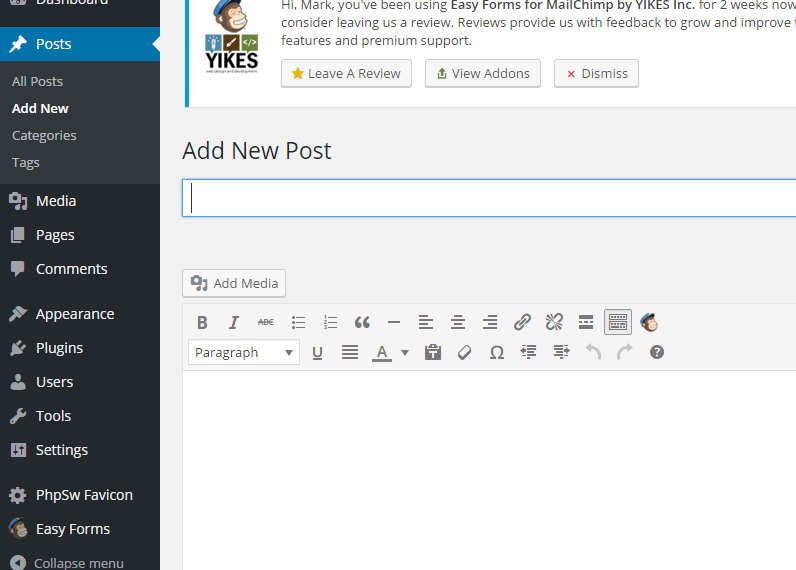 This is the section where you'll write your first words into WordPress and then post them.
I'm going to go out on a limb here and assume that you've already used a word processor like Microsoft Word before.   The reason why I'm bringing that up is because using the word processor part of WordPress is just like that.
You can type into the main field and use all of the same parts of a word processor ribbon just like you were using Microsoft Word.
You have a dropdown menu for your different fonts.  There's buttons for bold, underline and italics, as well as left, right and center justifications for your words.
There are also buttons to add links to your post as well.  This section is very easy to use.  Once you have written your first batch of words, and made sure that your post has a title, all you have to do is press the "Publish" button and you're through.
It really is that simple.
Conclusion
I hope that this post has taken any of the fear you have of getting a blog up and running out of your head.  Just remember, if you don't know what to do next, there are always loads of people, books and videos online to help you figure things out.
I do want to leave you with a parting thought.
I just want to remind you that setting up your blog, although technical, is actually the easy part of blogging.
The hard part is learning and practicing how to write posts that are going to interest people in your niche and what you have to say.
Writing of this nature takes a lot of practice, study and dedication.  You can accomplish great things and inspire legions of people with your blog, but it will take a lot of blood, sweat, and tears.
Any art, if it is to be done with all your soul is a worthy pursuit, because it separates the scoffers and tire kickers from the real geniuses.
So, put your back into it and kill it…You won't be disappointed.
Mark "Elmo" Ellis
Mark "Elmo" Ellis is an advertising copywriter that lives next to the Kentucky River right around the corner from the Valley View Ferry which is still in operation since 1785.
Mark is an expert at writing compelling copy and has serviced many clients over the last 5 years.  Here's a listing of some of the services Mark has provided for his clients:
Online Sales Letters
Brochure Writing
Business Proposals
Blog Posts
Instructional Video Scripts
Technical Writing
White Papers
Resumes
Newsletters
Call Mark today for a free consultation at:
(859) 797-9560
Email: elmo033057@gmail.com
Skype mark.ellis033057