I recently performed a search for the term "marketing processes" and discovered something interesting.  In almost every one of the articles I read, the focus was on the front end of the sales process.  There was great detail on how to create a sales funnel that gets the clients in the door and the services sold, but very little thought about what happens after the sale is made.
What I enjoy doing for companies is helping them set up processes; I think this is what sets me apart from many other copywriters.  Instead of just writing a single direct mail piece, I like to show my clients how to have a process in place that gets results over and over again.
True Story from the Crypt
It seems like companies really don't count the cost of client and customer retention.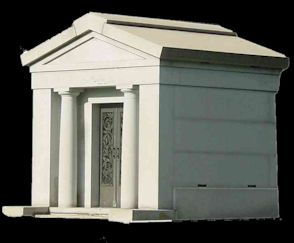 A few years ago, I had an account with a communications company for home services.  I had purchased all of their broadband services on a bundled account, and did so for the better part of a decade.
Through this company, I was using, telephone, cable TV, and the Internet; my monthly bill was significant and I didn't mind, because their services worked fine.  Since my billing was paid by credit card, they got their money every month like clockwork, and I never missed a payment.
One day, right out of the blue, my Internet was cut off.  At first, I thought the service might be down for updating or repairs made somewhere in the system.  However, when I checked my email, I noticed that there was a message from my broadband company informing me that they were shutting off my Internet.  According to them, (I say "according" because this was never proven or verified) one of the computers in my home was sending out some sort of spamming or advertising virus that my computer had contracted form someplace on the net.
Thus began a month long battle to find out where on my computers the mysterious virus was.  The company turned my Internet back on and within a week shut it off again, sending me an exact duplicate message like the first one.
I spent days trying to get this resolved.  I consulted with their online techies, each one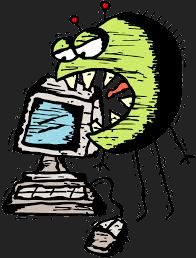 having their own ideas and theories as to why and where the mystery virus was coming from.  I bought the best and most expensive antivirus software on the market and came up nada.  I enlisted my son who performed IT work in the U.S. Air Force to examine my computers and he couldn't find a thing.
I called the folks up at my cable company and told them all I had gone through.   Sheepishly they told me they were sorry, but if my computer emits this virus one more time they were going to have to cut me off for good.
This was my last chance with the Internet.  If I couldn't find out where the mystery virus, I couldn't have Internet services anymore.  Bear in mind that at the time, I had a full-fledged ecommerce business running and it was getting close to Christmas, my busiest time of the year.
So, in one last desperate attempt, I replaced all of my computers and held my breath.
They cut me off.
I called one of the executive managers with this company about all that I had gone through  and detailed everything I had done to correct this problem, but all she could say was, "Sorry."
Finally, I told her, "Look, I've spent what would be the equivalent of a new car with your company, why don't you send one of your tech people over to take a look at my system, so we can all figure out where this problem is coming from."
"I'm sorry we just can't do that."
I could feel the frustration swelling up in my face.
"You mean to tell me you won't even roll a truck out here for a customer that has never missed a payment for over 10 years?"
Pause…
Unpleasant silence.
"You do realize that if I can't have Internet connection I'm going to cancel all of my services with your company.  That's phone, TV, everything."
"I'm sorry, "she said flatly, "There's nothing we can do."
"I'd like to cancel my account, right now please."
And so, the broadband company I had relied on, told all of my friends and neighbors about and paid on time for over 10 years and I parted company. I will never, ever go back.  As a result, I found a cheaper Internet service company that never complained about my computers emitting a mystery virus, and I tell everyone I know to go with THAT company.
This company failed to count the cost.  They should have looked at how much it would run them to send a truck and a techie to my home versus how much money they'd lose over another 10 years of monthly payments for all of their services.
Really stupid, don't you think?
Now, why did I tell you this story?
First of all, this company, which was in a very competitive market, failed to have plans in place to take care of situations like this.  When you're in business for as long as this company was, you should have a well thought out plan to handle contingencies like this.
There are many situations in your business that are very similar.  Yeah, there are some instances where you have to fire the client; however, if you have a system in place you can retain good clients and avoid losing piles of money that have been slipping through your fingers.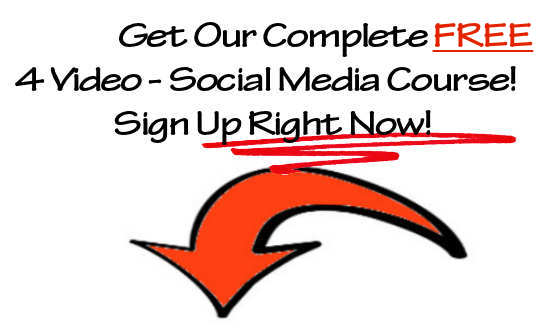 The Part Where You're Hemorrhaging Money in Your Business
Okay, let's take a less extreme example.
Let's say you get a new client and you perform a service for that client.  What's the next step?   Do you put that client into a database and forget about them?   Or, would it be better to have a procedure in place that lets them know you're still thinking about them?
And while you are keeping in touch with them, you can educate them about other benefits, services and products that you have that they may be interested in.  This can be done many different ways, from newsletters to birthday cards.
The usual objection to this is, "Well, that sort of thing costs money."
No kidding.
But think of the advertising dollars you're saving by making a direct hit on your target market.  If someone has spent or invested a large amount of money with your company, that means they probably know and trust you.  If they know and trust you, there's about a 70% chance that they'll spend money with you in the future, or refer you to others that will spend money with your firm.
Your easiest and best clients are always the ones that have already done business with your company.  Try getting those results with websites, ads, and other forms of marketing.  You need to have a mapped out strategy in place to continue soliciting and reminding happy clients of the other services and products your company offers.
To go back to our original client scenario, I've prepared a sample graphic of how mapping out and executing a process can help boost your sales tremendously.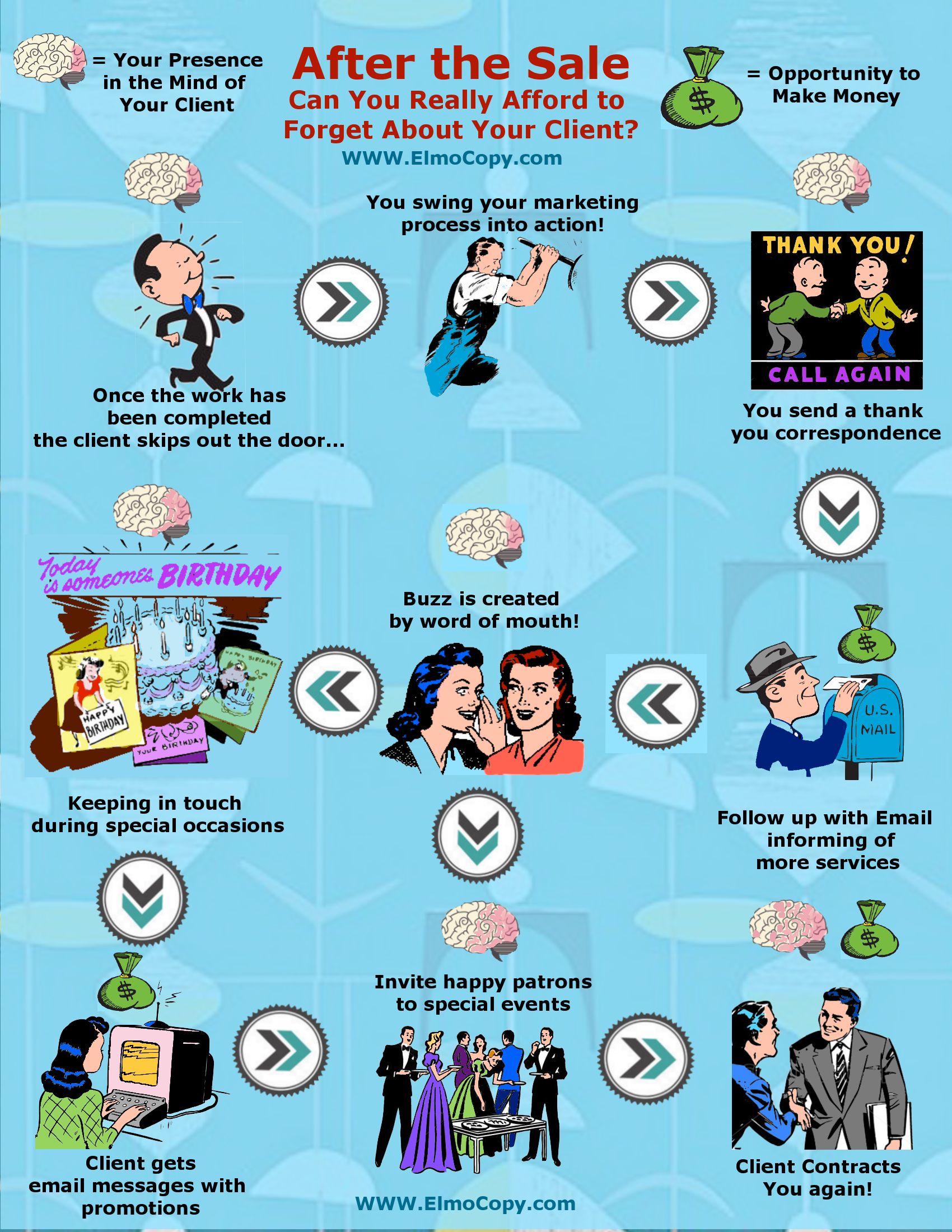 In this example, you've completed the entire sales process, and your client has skipped happily out the door, happy with the investments or services that you've completed for them.  However, right after the sale has been made, you automatically swing into action.  Using your client database, you send out automated emails every week giving your happy patron great information that they couldn't get anywhere else.
Also, you send out birthday cards, Thanksgiving Day cards (not Christmas cards, because they'll get buried in the piles of other Christmas cards) anniversary cards, and whatever else you can do to remind your serviced clients that you're still thinking of them.
It wouldn't hurt to call them once every couple of months too, even if you're just going to leave a message on their answering service.
The Hidden Opportunity
The reason for the methodology behind this madness is to not only have your prospects/clients remember you and stay familiar with your business, but also to EDUCATE them.
Salt and peppered throughout your correspondences you'll be giving these people great advice and giving them tips on how they can make even more money by doing business with you.
For real estate investment companies, you could easily tell clients about different investment vehicles and how they could improve their portfolios.  If you're a real estate development company, you could easily talk about the ways in which your company could save them more money on their next project.  You could also point out steps you could take to ensure that they'll get exactly what they needed to have completed on time.
Of course, you could hire a good copywriter who would craft a message like that so it didn't sound like you were selling to them, but letting them in on "trade secrets".
The point is, if you don't have processes in place for your marketing, you're leaving a ton of money on the table that could easily be replenished whenever you needed it.
Developing a Well Thought Out Plan
Since writing a blog post that explains how to market your business would probably take volumes and several years to write, I'm only going to talk about a small section of your business.
For the sake of this post, I'll tell you about what I do for my clients immediately after my initial contact with them.  Now bear in mind, this has all been thought up well ahead of time, because I don't want any lag.  I like to give my clients momentum right out the starting gate so that they can feel my expertise and enthusiasm.
Step One:  First of all, any of the people I get initial contact from, I immediately ask them if they would like to get placed on my mailing list.  I politely inform them that I will not bombard them with loads of spammy email trying to sell them junk,  and that at most they will probably only hear from me once a week to let them know about my latest blog posts.
Of course, this initial email is professionally written and ready to send out ahead of time.   The reason for this is simple, like any other sales oriented business, copy writing has a lot of tire kickers.  There are loads of people that will ask you questions, act interested and then leave.
However, that doesn't mean they won't ever do business with me, it usually means they're really not ready AT THIS TIME.  So, keeping them in the loop is a really good idea.  If they receive regular messages from me pointing out valuable resources or articles, they will see my professionalism and remember me.
Think about the industry you're in for a second.  Do you know anyone that keeps in contact with prospects that have contacted them over a long period of time?  If there aren't, you may have a clear advantage over your competition.
Step Two:  If the prospect contacts me for extensive information on my services, I'll send him a sheet that outlines the process I use to write copy.  (You can read it here:  "Before I Write a Single Word…")  This is still prequalification of the prospect, because until he has seen my quoted price and signs a contract, he is still just a prospect.
Back when I was new to writing advertising copy (and stupid), I'd be so eager to write for someone I'd start their project before they signed a contract.  I got a lot of practice, but I also wasted a ton of time on these people.
Step Three:  If the prospective client wants to pursue my services further, I'll send him a professionally written contract with my quote on it for him to sign.  If he balks at my price, I'll remind him to take a look at the sheet I sent him outlining my writing process and the care he'll receive from my services.
Step Four: Once the contract has been signed, I have more documents in place to send him, to include an initial questionnaire to begin collecting vital marketing data.  I actually have a series of questionnaires to send clients, but I usually space them out over a two week period so as not to overwhelm them.
Some of the other documents I will send at this point explain in great detail my process for writing his copy.  Writing great, knock-your-socks-off copy takes a lot of time, and letting your client see the research, writing, rewriting, testing, rewriting some more,  counseling, etc. is important. It will show them the entire process while letting them see what care and professionalism I'm giving them.
Step Five:  Now the client is on my "A List".  He receives daily email from me keeping him up to date on the progress I'm making on his copy and shoring up a few other questions I may have for him.
The Point of All This Is…
If you don't have processes like this in place for your business, then you're probably going to have a long, hard road ahead of yourself in terms of marketing.
The really cool part about this is that it's so cheap. Sure,  it takes time to put a system like this in place, but think of all the money you'll be wasting by not having a system in place like this.  You could use a billboard or run a pay-per-click campaign online, but that alone won't cut it.
The famous marketer, Dan Kennedy always points out that you can have great marketing on the front end, but what'll you do once you get them in the door of your business?
The Secret Edge That Most Copywriters Have
Good copywriters understand processes like this.  They know full well that just writing a sales letter or a squeeze page isn't enough.  You have to have well written email follow ups, direct mail correspondences, brochures, etc.
And each one of these pieces has got to sell, Sell, SELL!
If your company is handing out brochures that aren't written by a copywriter that deeply understands the sales process, then you're wasting your time and money.  You can't imagine how many business people I've dealt with in the past have gone out of business because they never considered putting a process in place.
It doesn't necessarily have to be a high end consulting business either.
It Doesn't have to be This Way!
Years ago, I was helping a man that had a catering business.  He had a great service and products but his business never grew beyond being just a small enterprise.
So I gave him a few processes to follow that would definitely help him out.  One of the ideas was to give out a few chicken wings to everyone that got on his mailing list.  He would ask his customers for their home and email addresses, and in return when he verified their email address he would send them a free coupon in an email that they could redeem for free chicken wings.
This way, he could send well written marketing messages and offers to these people informing them of all of his specials and new products, thus increasing his customer base.
Alas, he never implemented any of the common sense ideas I gave him and he got burned out.  His business never moved forward; it was not profitable enough to keep going, and it wasn't any fun just spinning his wheels endlessly.
Get Your Processes in Order
If you take a little time each day building marketing processes for your business, you will see a major transformation.  First of all, your company will be immediately perceived as a professional player in the field you're playing in, whether it's real estate investment services or development.  When clients think of which company they'd rather do business with, they'll think of the company that looks the most professional and knowledgeable.
Second, your business will have a smooth, automatic process that will make your marketing much easier and cheaper.  You'll hit a target market that is far more interested in what you have to offer.
Third, the market place and prospects will see your name and message over and over again.  You won't be a stranger like everyone else in your niche.  You'll be the go to guy or business that has the most name recognition without spending Mega-Bucks on advertising.
To Your Continued Success!
Mark "Elmo" Ellis