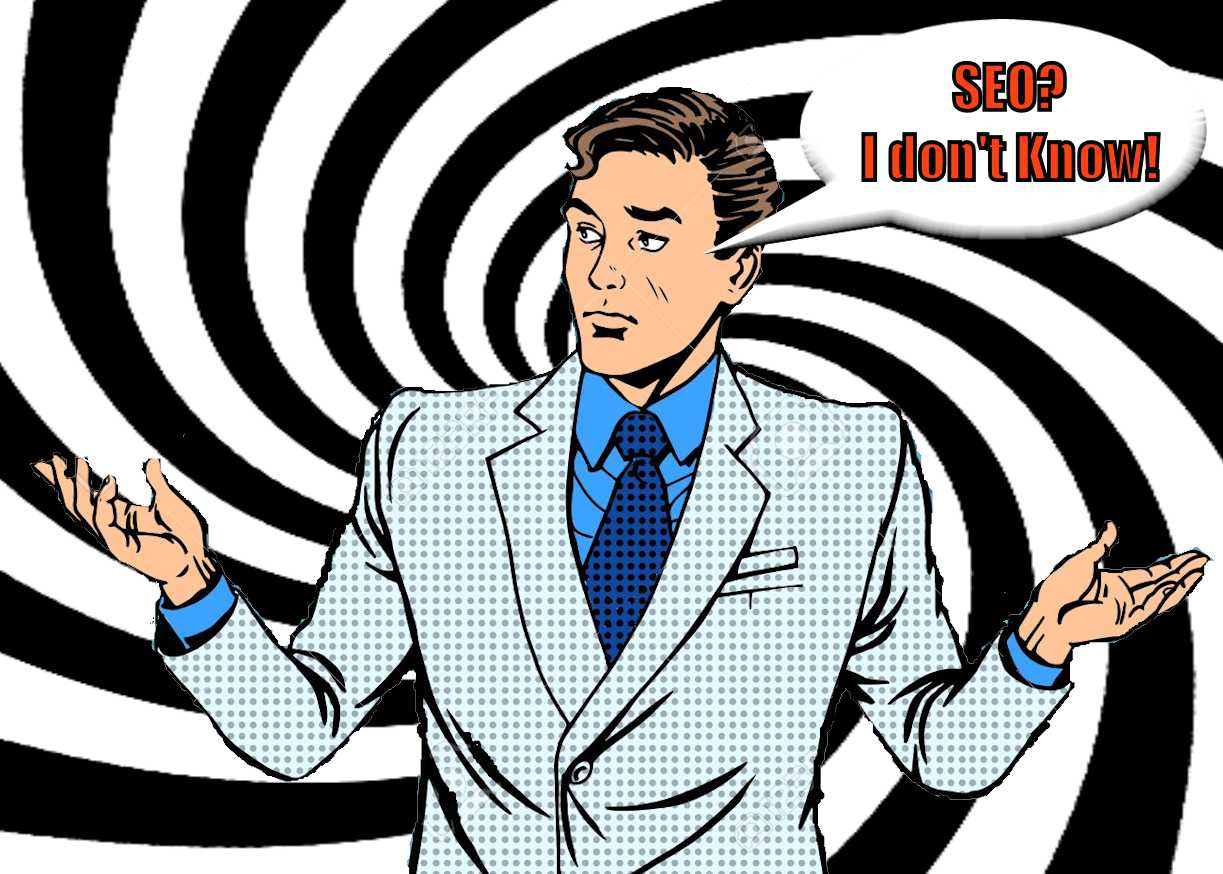 You may feel overwhelmed and a bit depressed when you read stats on how many people are blogging.
Since 2006, there almost 59 million new posts created every month and about 50 million new comments made every day.
At last count, there are close to 200 million blogs in existence  and more being created each day.
However, according to Technorati, approximately 8% of these blogs have been updated in the last 3 months!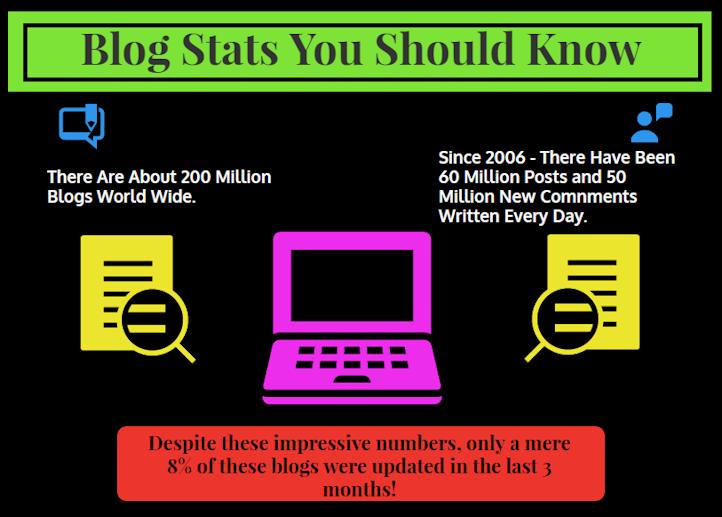 This means, dear blogger, you still have a golden opportunity to stand out among the other blogs because most of what's being written out there in the blogosphere is pure crap and not written on a regular basis.
Posts are poorly researched, not written concisely, and do not offer readers much value.
Not only that, but an overwhelming number of bloggers aren't even considering Search Engine Optimization for their sites or posts .
Like most other business ventures, this presents a golden opportunity for people that truly want to use their blogging efforts to generate traffic, create buzz, or make a difference in our world.
Blogging SEO Can Appear Confusing ― But It's Necessary
One of the chores of blogging is getting posts optimized for search engines like Google and Yahoo!  This one aspect of blogging alone is cause for many bloggers to cease their efforts or freeze in their tracks.
If you don't optimize your posts so that others can find you, then you will be sabotaging your blogging efforts right out the starting gate.
The good news is Search Engine Optimization does not have to be confusing.
If you're confused by what exactly Search Engine Optimization is, a simplified way of looking at it would be, "Any legitimate means of attracting traffic to your site."
If you make it a routine to follow a basic pattern of simple steps, you can make your blogging SEO so much easier and less threatening.
Hopefully by the end of this post, you won't feel quite so intimidated by SEO for your blog posts and be able to easily create the type of optimized posts that will help you bring in loads of traffic for your site.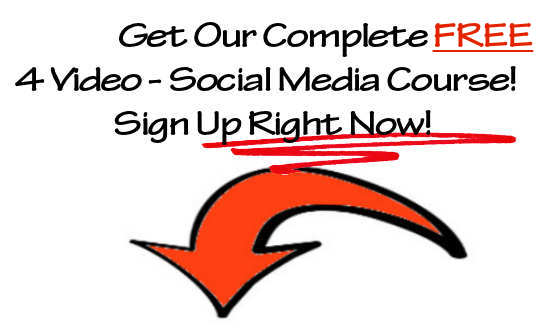 Simplifying the Challenge of SEO
When most people think about SEO, they start thinking about all sorts of complicated programming and coding that needs to be done in order to get the job done.
And while many of the high earning blogs on the Internet do hire specialists to take care of stuff like that, the average blogger can still make an impact with a few simple tools.
SEO isn't just about adding the right amount of keywords on a webpage but it's also about using tools that are easily available to everyone that takes the time to use them
Here are a couple of tools that should be in your blogging toolbox.
Video – Anyone with a cheap video camera and an inexpensive piece of video editing software can make their own high quality videos.
Videos that are well made can easily be found online, thus increasing your traffic, which is why I've included this in your SEO list of tools. (See, I told you that you didn't have to know all that keyword and coding stuff!)
I made a video years ago called "Facebook for Beginners" as a college project for a class I was taking, and that one video brought in a ton of traffic.  When I made the video, I had no intention of gaining traffic.  All I wanted was an "A" from my professor.  Go figure!
Once you make your video, you can easily upload it to YouTube, Vimeo and a host of other video sharing sites.
I would recommend that you take your time, plan out your video, and make a high quality one.
Everybody seems to be turning out crap, so if you are on topic, and have a great video that offers value, you should be able to generate interest and get some traffic from it.
Podcasts – In case you don't know what a podcast is, the best way to describe it is a radio talk show.  You can either record yourself, or a guest that you invite on to your "show". Once you're done recording your podcast, you can upload it to your site so that other's can listen and download it too.
If you have a good one you'll get …Traffic!
Just like video, it is getting extremely easy to create a podcast these days.
In order to create a decent one, you'll have to either use an online service, buy cheap software, or check around to see if you can find a free way to make a podcast.
Pictures – If you can learn how to make your own graphics for your blog posts you can easily help your Search Engine Optimization efforts.
One of the easiest ways for you to create graphics is to use a site I like to use called Venngage.  (If you Google it, make sure you type in two "n's".)
Venngage is so easy to use you'll be able to create cool graphics in no time.   I made a video that explains how to use Venngage in clear, easy steps.
Check it out:
Once you've created your graphic or picture, all you have to do is post it to your blog and encode it with an "alt tag" which takes the better part of two seconds to learn.
Getting Links
One of the best ways you can get search engines to notice you is to have good, quality links from sites that are valuable.
Sites that are authority sites in their particular niche are what you want and those niches must be relevant to yours.
Years ago, if you got any site to link to yours it would move you way up in the search engines. So, Internet marketers started doing all sorts of shady things to get people to link to their sites.  Buying links, selling links, lying, cheating, stealing…you know, that sort of thing.
Then Google put the hammer down and it hurt…really hurt. Vast fortunes were lost, especially for businesses that were purely Internet based.
Many of the businesses that were doing everything they could to get links were wiped out in a nanosecond.  And believe me, the wailing and gnashing of teeth was quite real.
No longer could you merely buy sell and trade links ― but your site, business, and savvy had to attract relevant links from reputable businesses.
Relevant links to your site is still one of the most powerful and important ways you can optimize your site for search engines, and knowing how to get them will attract all sorts of traffic.
However, if your site is poor quality, and your blog posts aren't written very well, it's going to be hard to get people to link to your site.  So making sure that you have good quality content is a must.
Types of Links
There are two basic types of links that you are going to be using, incoming links and outgoing links.
Outgoing ― Just like linking in, you'll want to make sure that the links you create and point to other sites are relevant to what you are talking about.  You don't want to just link out to a ton of people on one blog post because Google is aware of it.
In fact, many search engines are aware of the fact that some people are linking out and trying to gain attention from other blogs.  They will penalize you for it.
Here's why that doesn't work anyway…
Years ago I wrote a blog post on electric bikes and I pointed a link towards a site representing the magazine called Mother Earth News.   A couple of days after I did that, I got a real nice email from the editor of Mother Earth News thanking me for linking to their site.
As it turns out the editor was able to check online to see who was linking to their site and when she checked my post out, thanked me and gave me a link back to my site, thus helping out the SEO for my site.
Bearing in mind that this is a professional editor, able to tell good writing from horrible writing, it would have really SUCKED if I had written a crappy post.
I wouldn't have gotten a link from a great magazine, and I wouldn't have gotten the attention of a pro editor at an awesome magazine.
(By the way, you'll notice that I'm not linking to the Mother Earth News in this post because it is not relevant to blogging or copywriting.  If I had been writing about how to grow and cook rutabaga, then I would have linked to the site.)
So the lesson learned here is make sure that your links are to quality sites and that they are relevant.
Incoming Links
These kinds of links are probably the most important part of your linking strategy.
You want people from good quality, authority sites linking to you.  This will tell the search engines that you have good content so that sites that have authority will want to link to yours.
A blog that is new, inactive, and has poorly written content will not fare very well with generating links from other sites.
For one thing, good quality sites have a REPUTATION to maintain, so if you're producing rubbish, they won't link to you.  Secondly, search engines like Google maintain rankings of sites, so a site that has a low rating because it's new or inactive will not look good to Google if you link to it.
There are many ways to get links to your site, from commenting on blogs to actually sending requests to site owners asking for a link.  But just to make sure we're clear on this, if your site SUCKS nobody decent will link to it, plain and simple.
(If you really want to read some excellent advice on this, read Michael Bluejay's webpage called, "Why Your Link Request Failed".)
 Effective Ways of Getting Links to Your Site
Guest Blogging – One of the absolute best ways to get links pointed to your blog while getting loads of traffic is to do guest posting  on authority sites.
If you are going to use this method of generating links and traffic, you'll need to study and learn all about the blog or blogs that you're trying to write for.
The first thing that you'll need to do is find the blogs that allow guest posting.  Once you find out where the blogs are that allow guest posts you'll want to carefully read the blogs submission guidelines to see what the requirements are for posting to these sites.
In addition to looking at the guest posting guidelines, you'll want to also study the blog's different characteristics like the voice, most popular topics, and slang used.
Little things like that will go a long way in getting your foot in the door of your target blog's posting door.
Commenting on Blogs ― This is a good way to get noticed on blogs that have authority.
If you time your comments and vary the length of comments just right you may get noticed by one of the big boys in the blogging field.
Just to give you a good idea of how you can stand out in the crowd, if you go to a popular blog post and see that there are very short comments left by everyone on the post, you could do some extra research on the subject and write a longer, more detailed comment than everyone else.
Many times there aren't many comments because the subject matter is more complicated than what other people are willing to pay attention to or to comment on, and that could be your golden opportunity.
You could easily research the post material and write a mini blog post in the comment section adding additional valuable information to the post.
If you do this and do it well, you will get noticed!
On the other hand, if you notice everyone is making long comments, perhaps a shorter one will get you noticed.
No matter what commenting technique that you decide to try, only pick 2 or 3 blogs to frequent and comment on.  There's only so much time in the day, and you'll drive yourself nuts trying to comment on 30 different blogs frequently.
The other reason to comment on a blog is to get what is known as "link juice" from that site.  Usually when you post a comment the blog will allow you to link from their site to yours.
However, some blogs won't let you get credit for linking from their sites to yours by using a coding thing called a "nofollow" tag on your link.  They do that because they don't want to lose their authority by linking to a site that isn't too good or important.
However, there are sites that do allow you to get link juice from their blogs, and you can get the list of those sites here: Blogs That Allow You To Get Link Juice!
(Note: some of these sites are outdated and are no longer in existence.  So, you may get a dead end from some of the links on this site.  Another thing worth mentioning is that if the blog you're commenting on doesn't fit in your niche, you may want to skip it.)
  Blog Post Keyword Research ― In order to rank higher in the search engines for your post subject, you'll need to do keyword research and then optimize your posts for those keywords.
This sounds more complex than it actually is, so I'll give you a breakdown of how to do it in simple steps:
Use a keyword tool like Googles Keyword Planner to research the best keywords for your subject.
After you've compiled a list of keywords to work with, see if you can combine those keywords into short titles for your blog. This will give you an opportunity to create what are known as long-tailed keywords.
Once you've created some long-tailed keywords check with a keyword tool like the Keyword Planner to see if there are some long-tailed keywords listed there that you can use in your title and a few times in your post.
Try to use those keywords naturally in your post. Don't worry about how many times you need to use them, just keep them in your mind as you write and use them only when you need to.
If you follow those basic rules, you'll be ahead of the majority of the bloggers out there.
Submit to the SEO Rule of Submitting
If you want to get maximum exposure to your blog, submitting your blog to blog directories is an excellent way to do it.  There are several reasons why you'll want to do this:
You may be able to get a different audience to take a look at your blog, rather than waiting for social media or a similar ship to come in.
Sometimes the traffic that comes from blog directories is very targeted.
Many of the links from directories will give you links to your site that are "dofollow" links.
So, an easy way to get more traffic is to submit to blog directories.  Here is a great list of directories that you can submit to: The Blog Directory Submission List.
Here is another list of blog directories that you can submit to: The Other Blog Submission List
If you're going to submit to a horde of these blog directories, then I would suggest you open up a Microsoft Word file, or a notepad file and have the following information handy so that you can copy and paste from one of those documents into the fields they will ask you to fill out.
You'll need:
The name of your blog
Your name
Your blogs web address
Your email address
A brief description of your blog
Consistency and Excellence is Key
As I wrote about at the beginning of this post, most blogs on the Internet haven't been updated in the last 3 months.   Only about 7 to 8% of the blogs out there on the blogosphere actually hang in there and have been updated regularly.
So, without a clear strategy in place, you'll get confused, start to wander and not get your writing done.
You'll need to have a list and a schedule of what you'll need to do in order to stay organized and focused.
Here are a few ideas to get your started so that you'll develop good writing habits and write every day.
Go to www.coachme.com and sign up for a free account. Once you have a free account, you'll be able to set your writing goals and any other goal you might want to accomplish.
Once you set it up, CoachMe.com will send you email notices every day reminding you that you need to write.  So, you'll log in next and the site will remind you to click a button acknowledging you've logged in, and show you how many days in a row you've been keeping on track.
This will remind you that you need to write on a regular schedule.
If you do something for about 90 straight days, you'll have developed a deep habit that'll be much easier to maintain and keep your blog posting intact, placing you in that 8% of consistent and persistent bloggers.
Developing Excellence
If you're really passionate about your blog posting and writing you will eventually develop your own style and begin to write better and faster.
As far as the length of blog posts are concerned, the longer posts seem to get noticed by the search engines better than the short ones.  If you are concerned about length, you could shoot for 3000 word posts.
However, I have seen high ranking blogs spew out great 500 word posts and still rank well.  One of the reasons for this is that some of these blogs are churning out a post a day.  This is possible because they have a great many writers helping them and providing content for them.
So, unless you've got a staff or are willing to pay folks to write for you, you might want to shoot for the longer and less frequent method of writing for your blog posts.
But it all boils down to what you're will to do and the amount of time you have to write your posts.
Having said all that, you need to remember that not only do you need to write consistently, but you need to write high quality posts that offer your readers high value.
You will need to find out what exactly they are looking for and try to tailor the posts accordingly.
If you can show your readers how to solve problems, or teach them how to fix a problem in a step by step manner you will have a golden opportunity.
If you want to remember one thing from this post try to remember that in the world of blogging sometimes slow and steady wins the race.
If you can go out there and write high quality posts with regularity, you'll have a recipe for success in your blogging efforts.