If you've ever had to conduct a school fundraiser, you know it isn't easy to get people involved. As a matter of fact, it's almost as easy as pulling teeth most of the time.
One of the main reasons why most parents, staff, and business people associated with your school will blow off an opportunity to contribute or participate, is because they don't see a big enough reason.
If they do want to contribute and get involved, they may put it to the side to deal with it later and then they forget about it.
They will need someone to tell them why the fundraiser is important and urgent, and why they should call right now
This is why a well written fund raising letter can be the answer to your problems. 
Let's Dissect this Fundraising Letter Together!
What I've decided to do is show you exactly, by the numbers, all of the elements of making a fund raising letter.
Believe it or not, there is a right way and a wrong way to get this done.  Just like advertising copy, there are elements that must be presented in a logical manner to get people to want to read what you have written and then take action.
The average person gets hit with hundreds, if not thousands of marketing messages a day, why would they pay attention to your letter?
Hopefully, this dissection will help you create a letter that's more effective and will get prospective parents, business people and students to take the action that you want them to in this effort.
Before we get started, take a look at the entire letter, by clicking here: Christian School Fundraising Letter by the Numbers! 
The Letter by the Numbers
#1 The very first, and most important part of any advertisement is the headline.  Most advertising copy writers spend 80% of their time trying to write one for their copy.
The reason?
You have mere seconds to grab your reader's attention and get them to continue reading or they will probably set the letter down and forget about your message.
So, your headline has got to grab your their attention immediately.
In order to do this, you need to do two things:
Present the biggest benefit
Generate curiosity
Let's take a look at the very beginning of this letter.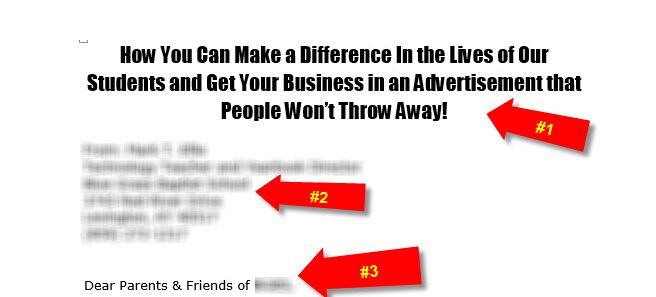 This letter was used to promote advertisement space in a school's yearbook.  The school was having a hard time getting businesses to respond to the opportunity of getting their businesses into the yearbook.
When I wrote this piece, I sat down for a couple hours and really brainstormed the top benefits I could present to businesses and parents that wanted to advertise in the yearbook.
Since I had a severe time constraint, I had to spend less time than usual on this.  The headline is super important, so usually, when I write a piece for someone it takes a lot more time.
However, this letter had to be done quickly. (By the way, I normally won't do work that requires this fast of a turnaround. Solid ad copy requires a lot more time and effort.)
In this headline (#1) I presented two benefits.
Making a difference in the lives of the students at the school
Getting businesses ads in a publication that won't be thrown away
Important Note: Don't get benefits and features confused!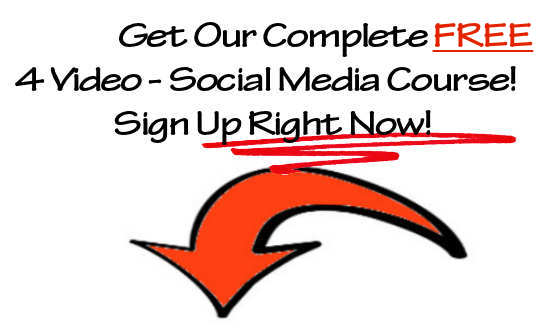 Features are niceties of a product like:  the color, size, shape, number of buttons, leather seats, clean look, etc.
Benefits are what the product or service will do for an individual like: make your teeth whiter, increase you intelligence, or get you to your destination safely.
The two benefits I presented in the headline are good reasons why a business person associated with the school would want to help out.
I could have said something to the effect of making it possible for parents to see what their kids were doing during the school year, but I wanted the reason to be more compelling.
Telling parents and business people they're going to be making a difference, means a lot more.  Also, I didn't want to address this just to parents but also businesses that usually had a relationship with the school and believed in the Christian mission it represented.
The statement "Get Your Business in a Publication that People Won't Throw Away!" is another benefit to advertisers and it also generates curiosity.
Notice I didn't tell them initially that this is about advertising in the yearbook.  I wanted them to read the rest of the letter, so I didn't come right out and tell them what it was all about.
#2 In most advertisements, I wouldn't put a formal statement of who this is from with contact information like this.  Because this is a letter from a school and teacher with a sterling reputation, I kept elements of a formal letter on the page.
#3 Call them out.  Whenever you're writing a fundraising letter of this nature, you should know who your audience is.  So call them out. If you were talking to parents of the basketball team, you would use;
"Dear Basketball Team Parents,"
This lets them immediately know that you're talking to them.  So, call them out and let them know that this message is for them.
#4 Break up the Spacing. Your school's Grammar/English teacher will probably want strangle you.  Don't worry about how a paragraph is formed, but how a person's eyes will travel down a page.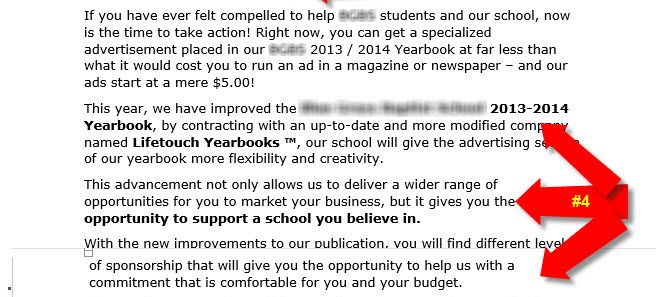 (This is especially true about writing for an Internet blog or webpage.  People's eyes just can't handle small print, big blocks of writing.)
So, break it down.
Vary the size of your paragraphs so that people reading your ads won't get tired eyes and sore heads.

#5 Give them benefits and reasons to help. Sit down and brainstorm every reason you can with students, parents and staff on the benefits of helping or contributing to the school's cause.
Actually, this step should be done before you write a single word, because it will make your writing go so much easier.  I once evaluated a ten page advertisement that was written for the Internet.  Almost every sentence on that report had a benefit or two in it.
A good fund raising letter will give people plenty of reasons and benefits as to why they should help. So you need to brainstorm and write down every single benefit and reason why a person of interest would need to buy or contribute to your fund raiser.
#7 (#6 is explained below) Change up your font elements. Use bold, italics, underlined and a combination of the three to make important points stand out.  Just like paragraph spacing, you want to create a page that is easy to read and not boring.

If I have an important point to make, I use these font elements to make my point stand out.
(In the case above, I used bold, italics and underlined at the same time.  See how it stands out?)
However, never change the font in the body of the letter.  Once you've started writing the body, stick with a plain, easy to read font like Arial, Times New Roman, or Verdana and stick with the same font throughout the body.
The only part of a sales letter, or fundraising letter that I'll use a different font in, is the headline.
For the headline, I use large letters (if color is available, I'll use red in the headline) using the Impact font.   As I stated earlier, you'll want to make sure that your headline grabs the eyeballs of your reader immediately and using large letters in a noticeable, yet very plain font is important.
#6 Use bullet points to call notice to important points, benefits and features.  These are used to give the reader short and sweet points that will drive them tom take action.
I like to "dimensionalize" my bullet points if I can.  If I present a feature about a product I'll try to add a benefit to it so that it will carry more weight in the mind of the reader.
Example: "The yearbook cover is professionally printed and looks great, so people that see your advertisement will know your business is in a serious, well made publication, rather than a cheap newspaper that gets thrown away."
See how I took a feature like the professional cover, and turned it into a benefit to the reader that will make their business stand out?
Bullet points also make important points stand out from the rest of the text on the page.  Once again, this breaks up your body copy and makes it easy to read.
#8 Use a call to action (CTA).  Near the end of almost any advertising copy, you'll find a CTA.  This is where you'll actually tell the prospects exactly what they need to do to get involved.
If you want them to call you and place an order, then tell them to do so.  Many copywriters feel that next to the headline, the CTA is the second most important element of a sales letter.
If you watch any infomercials on TV, whether they are trying to sell you a Chia-Pet, or trying to get you to donate money to rescue whales, you'll see a call to action. Some of these infomercials run their calls to action throughout the entire presentation.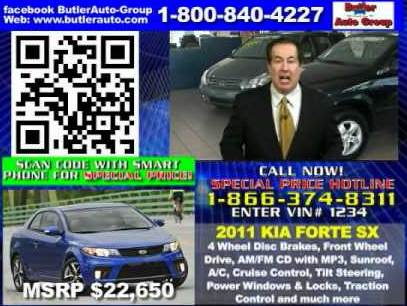 The example above shows a local car dealership that bought airtime on a Saturday morning slot.  There are at least three or four calls to action here.
Can you spot them all? (Please see the answer at the bottom of this post.)
Something I should have mentioned from the start…
I know what you're thinking.  You're starting to think that I'm telling you to use slick sales tactics to promote your Christian school's fund raising activities.
You're starting to think this is unethical.
I've worked at several private schools and every one of them used fund raisers to bring in MONEY. As a matter of fact, all of them had multiple fund raisers of every kind you can think of to bring in cash.
Yearbooks, bake sales, fall festivals, strawberry sales, cookbook sales, candy bars, etc.  There are so many types of these fund raisers operating on so many levels, I can't actually name them all….and that's at just one school!
Now, ask yourself this question ― is it unethical for your school to have these fundraisers?   Should they really have this many?  Should your school be using children to bring in funds for a school?
Well…
Do you want your students to go on field trips?
Do they need uniforms for the baseball team?
Does your Senior Class want to go on a graduation trip?
Does your science class need more supplies?
Do you have any students involved with missionary work through your school?
I think you can see my point.
So, if your school is going to be using these types of activities, doesn't it stand to reason that you'll want to bring in as much cash as possible?
If I can show you a way to get the job done easier, while reminding people that are involved in your class or school what you are fund raising for, wouldn't you do it?
Of course you would.
Not only that, but the fund raising companies you're working with also want you to do well.  I hope you don't think for a second that the Golden Wrapper Candy Bar Company wouldn't LOVE to see you sell a ton of their chocolate, and make a lot of money for your school as well as themselves.
Of course they would.
Hey, wait a minute! Now you're going to tell me I'm trying to sell you on using this technique!
Moving on… (Yeah, just can't win!)
Getting Back to My CTA…
#8 Continued ― You don't need to be overt about telling people to take action because there are ways you can do it subtly. Take a look at this excerpt from my sales letter:

The first section gives the supporters a reason to donate or purchase outside of the reasons I've already hit upon.  It actually introduces the CTA section while giving them another reason.
The next section creates urgency.  You know as well as I do, that if your hand isn't open right in front of your supporters, they'll put it off, no matter how badly they want to help your school.  So, with a fund raising letter you have to give them a reason to order today.
Always put a time limit in your letter.
If your strawberry fund raiser has a time limit on it because this is the perfect picking and delivering time, say it.
If you have to have the money in by a certain date because the senior class has to have the money to buy tickets, say so.
The last section is the overt CTA.  This where you'll come right out and say what you want the supporters to do.  Always have a way they can easily order.
If you can have multiple ways they can order, so much the better.  For example, if you're working with a company that provides you with a webpage for sales, the best situation would be something like this:

The easier and more ways you can get people to order, the better off you'll be.
#9 Closing ― Close out your letter professionally and always place contact and ordering information under your name.  If you can add your signature do so because it adds a personal touch.
About Postscript (PS) Sections
Usually, copywriters like to use a postscript section in their copy.  The reason is because you can remind people the benefits you just mentioned, but the main reason copywriters is to sweeten the deal somehow.
If you can come up with an extra benefit or treat to go along with your initial offer, put it in the postscript (PS) section.
Lists of Books that can Help Your Fundraising
If you want to learn more about how to write sales letters, fund raising letters or any other type of a persuasive message, I've put together a list of resources that you can draw on.
These resources deal with the art of copywriting however, you can adapt these to your fundraising communications as well.
The Ultimate Sales Letter by Dan Kennedy ― This book is a great introductory text that will give you all of the basics you need to craft a persuasive message of any kind.  Dan Kennedy is a master marketer that commands $25,000 for a sales letter from his clients.  You can get it used from Amazon for a lark.
How to Write Successful Fundraising Letters by Mal Warwick ― Here's a book that deals directly with writing fund raiser letters and actually gives you examples to work with.  In the world of copywriting, "swiping" or the practice of using other people's advertisements and letters as a template, is common practice. So there are quite a few examples you can swipe and quickly adapt to your fund raising efforts.
The Fundraiser's Guide to Irresistible Communications by Jeff Brooks ― When other good copywriters recommend a book of this nature, you better believe it will get results.  Not only does Jeff Brooks give you great fund raising ideas, but he also shows you how to design them for a better response.  Once again, you can get this book from Amazon for free.
If You Don't Want To Do This Task Yourself…
Well, I am an advertising copywriter myself, so if you need help with this task, please feel free to contact me.  I'll be happy to talk to you and give you some free tips  on how you can make your next fund raiser more profitable.
To Your School's Continued Success!
Mark "Elmo" Ellis
(859) 797-9560
Oh yeah, before I forget!
***Answer to the Call to Action (CTA) question above:
The QR code (the square barcode known as the Quick Response code) itself is a subtle way to say, "Scan me" by just being there.
If the QR code wasn't enough, there's a small bar below it telling you to use it.
The obvious CTA is the "Call Now" in big letters over 1-800 number.
Finally, the salesman is telling you "Call Today", I can guarantee it. So that brings the total to 4 CTA's on this screen capture.