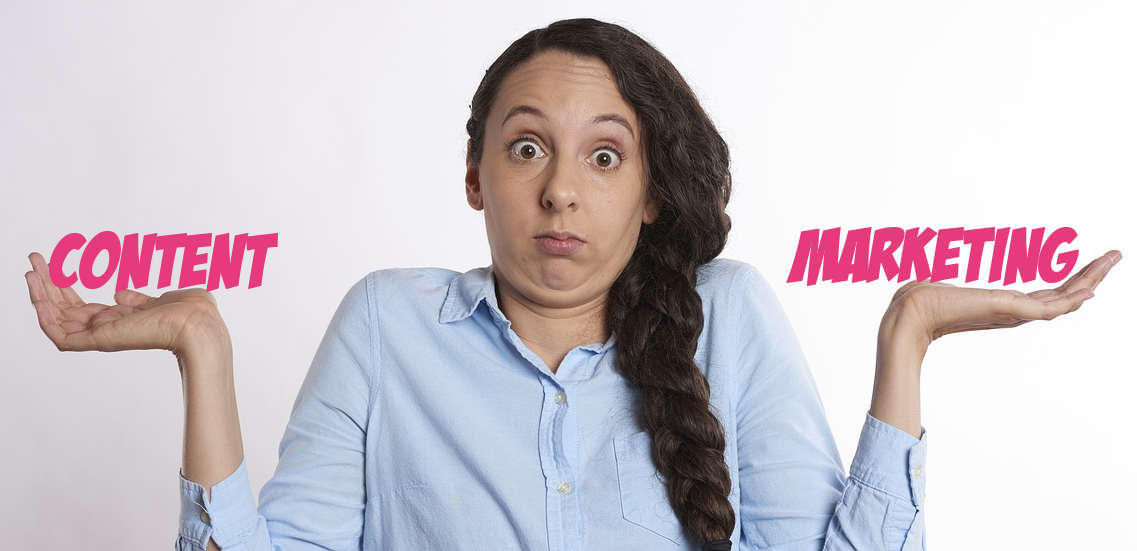 First I'm going to give you the bad news, and then I'm going to give you the really BAD news.
The bad news is you're hardly getting anyone to come to your website.  The really bad news is the few people that are landing on your site have no interest in what you have to say.
They land, look, and then leave.
Not a very happy scenario for someone who wants to grow an online audience for their business.
But there is good news.  You can get people to find value in your content and see your online presence as an authority in your niche.
In this post, I'm going to show you how to create content that will bring in people that will want to read and digest what you've put on your site.
This is what is known as "content marketing" or "content strategy" and by the time you finish reading this, you'll have a firm grasp on what it is and how you can get it to work for your business.
What is Content Strategy? 
Content strategy is nothing more than the plans in place to use in a content marketing campaign.  Content marketing is the actual use of it.
But what is content marketing and does it really work?
To help you understand clearly what content marketing is, I've broken it down into chunks you can easily understand it.  Content marketing is… (Drum roll, please!)
Strategic Marketing – Content marketing is strategic. This means that you aren't just throwing out irrelevant posts, tweets, or whatever you've been doing.  The content you unleash onto the world must be:
Relevant – It must fit your niche. If you're in the band instrument business and you're writing about the latest pop superstar, your audience may come to your site but they'll be coming for all the wrong reasons; you won't make any sales or gain new clients. You must feed your audience exactly what they're looking for related to your business.
Valuable – If the right people come to your site, are they getting value from what you have? Are you giving them solutions to their problems and providing resources that they see as important?
Consistent – Your content must be delivered on a frequent and regular basis. You can't just write a blog post once a year and expect results.  You have to provide fresh content so they will come back to you again and again.  Not only that, but they will get to know you and your voice, (the style and character in which you write) and will come back to you again and again.
Profitable Marketing – Content marketing leads people to want to do business with you and spend money.  If they feel you have a connection with them and that you understand their needs and desires, they will do business with you.  This means you will have:
Credibility – They can clearly see that you understand them and you are helping them make positive differences in their lives.
Share-ability – If people see your content has value and that you've made some sort of connection with them, they will share your content with their friends. Have you ever noticed that it is much easier to sell to someone that has been referred by a friend?
(Don't worry.  In a bit, I'm going to show you how to generate great topics and ideas that are related to your business.)
Does this Content Marketing Thing Actually Work?
Hopefully, by the time I'm finished with this post, you're going to be sold on the idea of content marketing.  I'm going to give you a few clear examples of it so you won't think I'm just wasting your time.
Fair enough?
Good Greens Content Strategy: Reach out to Bloggers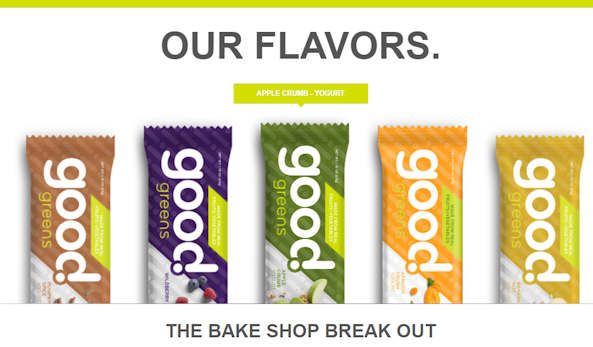 This is a company started by a man named Keith Pabley in 2001, and he was working with a doctor to help him build his practice.  Apparently, the doctor was recommending that people eat some sort of health food bars to help them stay healthy.
The problem with the bars he was recommending was that they tasted like doo-doo.
So, Keith decided to create bars that were healthy and good.
He also started using content marketing strategies to grow his business.  His content strategy was to reach out to local bloggers in the Cleveland and ask them to write about their product.
The results:  50% growth in 120 days resulting in $50,000 a month in sales and his bars are now in 1,300 stores!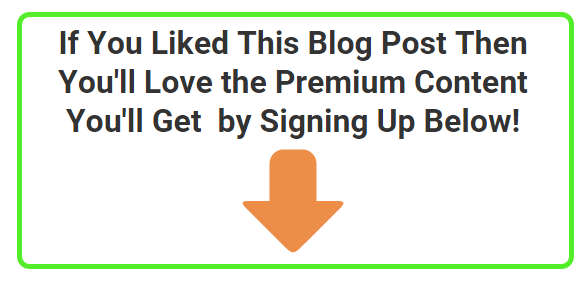 Foiled Cupcakes – The Personal Touch in Their Marketing Mix

This company took off because its website wasn't ready, believe it or not.
Mary Luangrath couldn't figure out what to do for six weeks while her web designer fiddled with her site.  So she took to social media and started posting like crazy.  When you think of a business like this, it really isn't too unique.  What is unique is the way the company used a social media marketing mix to generate interest in their product and service.
One of the key ideas behind this type of marketing mix is the way the Mary used her social media savvy on a personal level.
"Whenever you get any kind of communication from anyone online, always respond to every single person."  Mary says. "It's noticing the individual that creates buzz and makes people want to support your business."
The results: Because of her personal touch and social media content, Foiled Cupcakes had a 600% increase in revenue within a 6 week period.
Dumb Ways to Die – The Biggest Cannes Film Festival Winner
Ok, this is a real weird campaign, but it worked on the level of Fabulous.  The Melbourne Metro Trains system has produced a safety campaign that was not only unique, but very popular.
Using simple computer animation videos, this campaign took home more awards from the famous film festival than any other contender in the history of the event.
The premise behind Dumb Ways to Die is that because trains are a fixed device, they can only travel in one direction on one fixed path.  So, if you are inept enough to get hit by one, then you are pretty…dumb. (There, I said it!)
So the brains behind the campaign hired animators and song writers to create a cute video featuring funny characters showing all the stupid ways a person could croak.
After creating the video, the contracted producers of the campaign leaked out buzz about their message through different journalists and online writers that had a following.
Next, the company in charge of the campaign created little icons for people to use through the social media site Tumbler.  The video itself went viral and the rest is history.
The result: Besides being the biggest winner of the Cannes Film Festival and having an extremely popular video that was being shared all over the Internet, millions of people became aware of the danger of being hit by a train. 
Finally, I'd like to share this image from Google Trends on the popularity of content marketing over the last 5 years.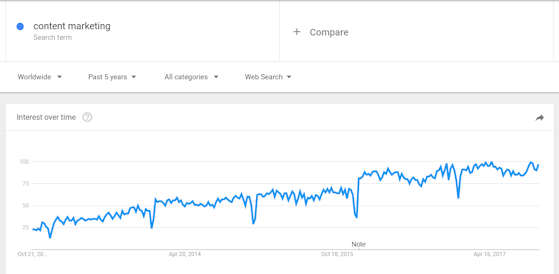 What are the Benefits of Having a Content Strategy in my Marketing Mix?
Hopefully by now, you can see the full benefit of having a content marketing strategy to help propel your brand, business or ideas to new heights of glory.
Here in a nutshell, are some other reasons why a content strategy is so popular:
It does not take a large budget. You can create your own campaign on a shoestring. All you need is Internet access and a computer to get started.  That's it. (Oh, some software would be nice, too.)
You don't have to hire an agency to do this. As a matter of fact, many of the online stories about these types of successes are done by the people that are running their own businesses. Point in Case: Marcus Sheridan's pool company
You can have fun doing this. You can create your own videos, graphics, and write to your heart's content to create a campaign. The sky is the limit!
Using Content Marketing as a Part of Your Marketing Plan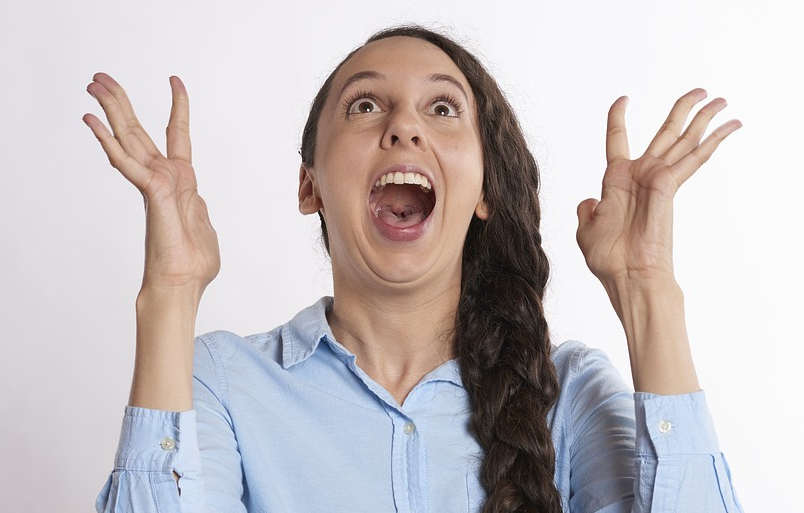 Ok, now you're sold on this content marketing strategy thing. So, how do you get started?
I believe I can sum up the entire process of beginning a content marketing campaign in just two words…
START WRITING!
If you go back to my bullet statements above, you'll notice that I said you can do most of this content creation yourself. Well, you can!
Actually, if you have a bunch of people working for you, they can help.  You need to create content; don't make the mistake of creating tons of it fast. If you do that you'll just be spinning your wheels without a clue as to what you're doing.
You need to create content that's:
Relevant to your product and target market.
Informative and answers questions that they will want to know.
Content in your marketing mix that's engaging and high quality.
Creating Content that's Relevant
Of course if you have a unique candy store, you're not going to start writing about paint colors.  It's not relevant.
So, what would be relevant?
If you're stuck on what to write about in your niche, you can easily go to a site like BuzzSumo and see what people are reading about.
Use the search function on BuzzSumo to type in the phrase you're looking up.  In this case, you could type in the word "candy".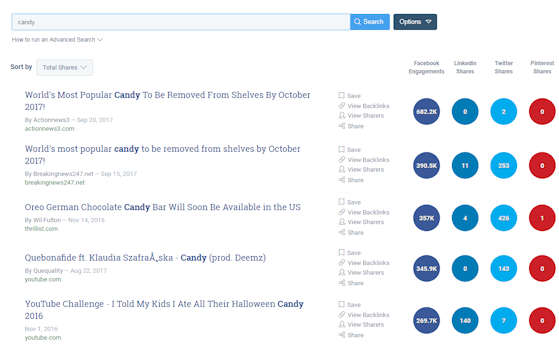 On the left are links to the articles that were shared and on the right, are the number of shares on different social media sites.
You can get tons of ideas from this site, and find all kinds of relevant content ideas to create posts, eBooks, white papers, slide presentations, videos, and tweets from.
Your Content Strategy Must Answer Questions
One of the best ways to market your business using content is to answer questions about your product.
If you already have a viable marketing plan, you should be able to easily tell what your main benefits are to your clients and customers.
You should know what they want to know and what keeps them awake at night.  However, if you want to have more ammo for your content marketing campaign, you can easily get ammo from this site: Quora.
In the last several years, Quora has become the premier question and answer site.  In the case of our candy store scenario, I went to the site and typed in candy.
At the top of the results, there was a link that had almost 10K results listed.  I clicked on it.  Here are the top answers to questions about "candy":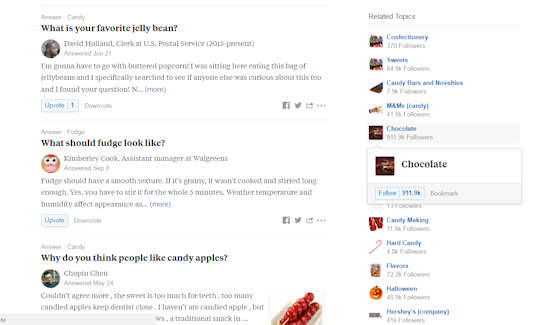 Of course, I could have scrolled further down the page to see more of the thousands of questions raised by the topic of "candy" but I think you get the idea.
The whole idea behind this approach is to find out what your target market thinks is important.
Make Sure Your Content is Engaging and High Quality
If you want to make your business look like crap, produce crappy stuff.  Let's face it, based on the trend towards content marketing over the last 5 years, everyone is going to start using it.
It's just like blogging.
Everyone and his mother is out there blogging. The trouble is the majority of the bloggers and blogger wannabes on the web suck.
They don't know how to write engaging content that hooks readers, they don't know what their people in their niche are looking for and they have little or no graphics, video or other support material to make their posts interesting.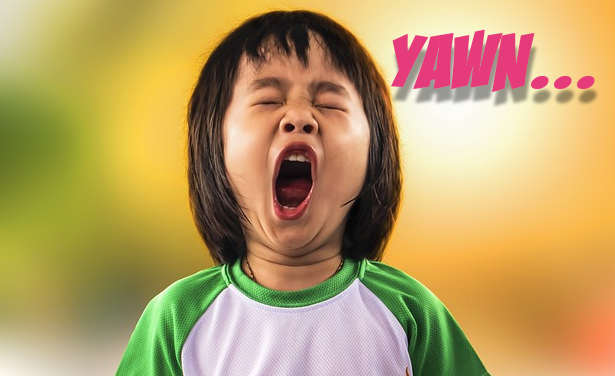 That's good news.
Because, most people will do the bare minimum in their content marketing campaign, you can do far better without killing yourself.
If you go above and beyond in your niche, town, club, or whatever, you can easily stand out from them even if they're using content marketing as a part of their marketing mix.
All you have to do is produce excellent content that displays just how serious you are to your market.
A great example of this is Neil Patel.  I've written about this guy before and he is amazing.  Monsieur Patel is the Rolls Royce of bloggers in the very competitive market of SEO experts.
Here's an excellent post of his on the subject of content marketing.
However, as I said above, Patel is the uber-content marketer.  His posts are often 3,000 to 4.000 words long including pictures, graphs, videos, etc.
You don't have to go that far, but I'm using his site as example of what the top of the mountain looks like.
Conclusion
Hopefully by now, you've embraced the strategy of content marketing.
If you have a staff where you work at, get them on board.
If everyone that works for you helps just a little bit, you can make a major splash with your campaign and vastly improve your marketing campaign.
Remember, the beauty of all of this is it doesn't take a wad of money to launch a campaign like this, you can get it rolling for next to nothing.  You just need to put in the work and time to get it done.
Like this post?  Have comments?  Do you have any relative tips or tricks to add, please leave a comment below.