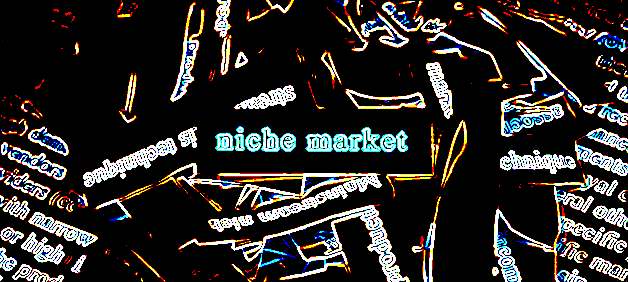 If you're considering getting any free traffic at all to your site, you'll want to pay attention to this post.
One of the places I frequent for Internet marketing ideas, feedback, and entrepreneurial information in general, is the Warrior Forum (a.k.a. the WF).
If you're an entrepreneur or business person, this forum is a gigantic vault of information on Internet businesses, marketing, and as well as advice on brick and mortar ventures.
One of the most frequently asked questions I see on the WF usually comes from people that are new to the reality of Internet marketing.
The question usually looks like this (or a variation of this):
"I'm totally desperate.  I've bought loads of courses, tried everything and nothing is working.  I'm on my last $50 and don't know what to do. HELP!"
Or…
"How do I make money online when I don't have much to start out with?"
First of all, I'd like to take this opportunity to reference one of history's greatest entrepreneurs.
"The only place where success comes before work is in the dictionary."
When Mr. Edison says "work" he means it.
Internet based businesses are no different than any other business. You have to go out there every day and kill it…Plain and simple.
So, if you're looking for a magic bullet, forget it.
I personally have had my own ecommerce sites, affiliate sites, and even some blogs that I generated AdSense revenue from, and I can't begin to tell you how much blood, sweat, and tears I put in to those enterprises.
Sometimes I made decent money, and sometimes I didn't make a dime. That's just the way it goes.
However, as any entrepreneur will tell you, failure is essential to success.
Consider this video by Seth Godin:
Yes, Virginia, there is a silver lining.
I hope you haven't clicked off of my site yet.
I'm not trying to depress or stop you from doing business on the Internet; quite the contrary.
However, you've got to understand the pitfalls and misconceptions that occupy this minefield of marketing.  It's not going to be easy to generate loads of free traffic and anyone that tells you that is lying — flat out.
The good news is it can be done if you're willing to work it.
If you don't have a job and you're on your last $50, get a job and work your Internet based business on the side. You have to keep the lights on and the baby fed — that's just common sense.
But if you want to pour your guts into an online business and get started as cheap as possible, then I'm going to tell you as much as I can how to do it.
The big payoff everyone seems to miss.
The really good news is that most people aren't willing to work it, and leaves room for people like you and me to swoop down and scoop up the opportunities.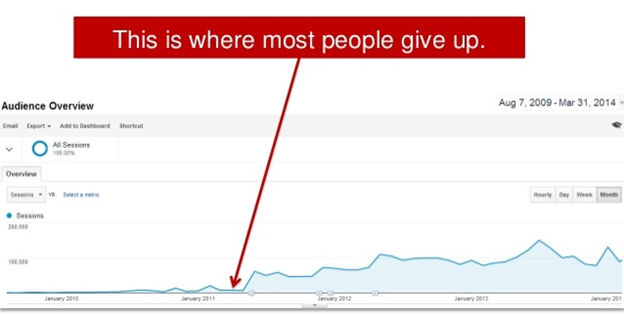 Just like any other endeavor, most people will start out gung-ho, but will die out in the earliest stages when they realize what this type of business entails.
If they do, they'll usually miss the mark by stubbornly spinning their wheels working a niche that has few followers, or writing in such a way that nobody cares.
The goal of this piece isn't to tell you how to start a business, get a website, or any of the other basic stuff you should already know to start an online business.
My goal is to try to show you how to get traffic as cheap as possible, and the key to free or cheap traffic is super incredible content and niche focus.
If you want to learn how to convert that traffic, that's another issue.
But the focus of this lesson is going to be on how to select your niche so you can generate specifically targeted traffic as cheaply as possible without painting any false illusions about it.
Getting your niche on.
Before you can you start any online business or blog, you must find a niche market to operate in.  One of the worst pieces of personal advice I've received in the past, was to find a small niche and cater to it.
The advice I usually heard was something like this:
"Start a site about teaching blogging to old people in Alaska,"
"You can call it "Old, Cold Bloggers up North."
So you sit down to create a site that teaches old people to blog.  Obviously it's a well-defined niche, because it has the following specific criteria:
It is age specific
It's geographically well defined
It teaches a particular group of people a skill
It even details a temperature your niche is accustomed to
Wowie-Kazowie! We should have great success with a focused niche like that!
But before we start writing for our site or writing blog posts, let's look at a few online entrepreneurs that are killing it to see what niche they're in…
Neil Patel – SEO marketing
Jon Morrow – Blogging
Seth Godin – Marketing
Jeff Taylor – Websites and Internet Media
Tim Seidler – Internet niches
Tung Tran – Starting online businesses
Taylor Dow – Weight loss
As you can see, most of the successful online entrepreneurs are in the largest markets or at least the submarkets of the larger ones.  And the reason for this is very simple:  This is where the money is and this is where the traffic is.
Another thing you may notice from the list above is that these are highly competitive niches as well.
Small niches, on the other hand, mean low traffic and little opportunity to make money.
Yes, it's great to find a well-defined audience for your online business, however you need to go to a bigger market in order to make money.
I'm not saying there aren't smaller, viable markets out there; it's just that they'll take you a very long time to start seeing any money from them online.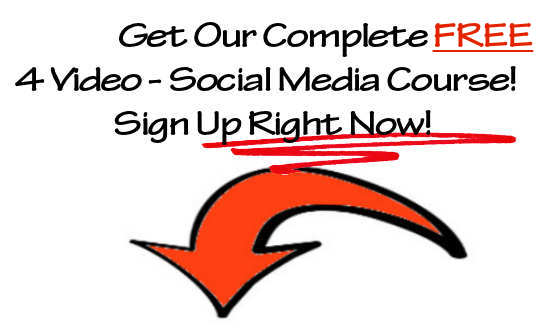 My personal take on this…
A couple of years ago, I wrote a blog called "electric bikes and scooters".  I wrote articles for that site for years before it sunk in that no matter how much I poured my guts into it, it wasn't going anywhere.
Hey, I was in a small niche that had a following, right.?
However, the niche was too small to support all of the sites that were already out there.
Many of the other elect
Plus, some online ventures work better hand in hand with regular bricks and mortar businesses attached to them.
For example, if I already had an established bricks and mortar electric bike shop, then it may have been easier for me to attract people to my site from making face to face contacts or handing people my sales material with my website address printed on them.
So, building an electric bikes and scooters site may have worked better if I had a regular bike or scooter shop and I wrote about the products I  was selling.
This all begs the question how do I find a profitable niche?
The step by step method to finding a great niche.
Before You Do Anything, Heavily research your niche.
When the famous godfather of marketing, Dan Kennedy decides to create an information product, the first thing he usually does is run ads BEFORE he tries to make the product.
The reason?
He's trying to make sure there's definitely a significant market for the product so he won't waste a ton of time making something just a few people want or care about.
Of course, Mr. Kennedy is a direct mail marketing expert and he still swears by  it.  So, he sends out ads to a targeted list announcing a product that he's says he's creating, and if you just sign up early for it you'll get a massive discount once it's finished.
All you have to do is send in a reply card saying you're interested and you'll get the discount. There's no cost or obligation at this point, because the product isn't even completed yet.
If he gets a significant number of people to raise their hands and say "Yes, I want it!" then he'll create the course and move forward.
Can you do this on the Internet?  Absolutely!
Just buy a targeted email list and send out an announcement stating you'll be starting an online course (or whatever) and that as soon as you're finished with it you'll give the selected people a huge discount when it's done.
I got one this week from a top marketer on the Internet who is offering a blogging course.
Here is the rub in the email I received:
"…For this first release, we're only giving 200 people access.
… and we have over 140,000 writers on our email list.
So, I think there's a pretty good chance the spots disappear lightning fast.
Here's the good news, though:
If you're interested, and you'd like to give yourself a better chance of grabbing one of the 200 spots, you can get on our early bird list here. "
The reason I'm bring this up, is because you must make sure that there's a market for your product, service or niche before you start promoting it.
If you go through the process of creating a website, products, and content for a niche that doesn't have many takers, then you'll run into a lot of frustration.
Niche Research Step 1:
Take a Look at the Big Niches
So let's say that were starting from scratch and you have no idea which niche you're going to dive into.
Based on what I said earlier, let's take a look at the largest niches and see if there's anything there that interests you.
The top niches listed with sub-niche suggestions:
Business & Entrepreneurship: Business Opportunities, Entrepreneurship, Networking and Multilevel Marketing
Health & Fitness: Dieting, Exercise, Alternative Medicine, Exercise Equipment
Career:  Education, Motivation, Management Techniques, Leadership
Creative Stuff:  Artistic Hobbies like Drawing, Painting, Carving,  Scrap Booking, Tole Painting, (The latest thing is coloring books for adults…Who knew!)
Freelancing:  Copywriting, Blogging, Photoshop, Web Sites and Design, Coding
Gadgets & Technology:  Software like Photoshop, Robotic Devices, Drones, Tablets, I-Phones or a mixture of these things, Gaming is big too.
Marketing:  Blogging, SEO, Direct Mail, Internet Marketing, Social Media
Culture, News & Entertainment: Movies, Movie Stars, News, Fashion, the latest Trends
Parenting: Pregnancy Issues, Child Rearing, Education Issues, products related to this market
Personal Finance:  Debt reduction, Investing, Accounting, Frugal Living,
Self-Improvement: Motivation, Business and Fitness can cross over in this space as a group
Take a look at the niches listed to see if there is anything that resonates with you.  Chances are, there is something there that you're interested in or have a passion for.
Good Advice: Try to find a niche you're passionate about.  If you definitely have a passion for it, then you'll get up every day and look forward to what you have to do.
If you don't believe me take a look at people that followed their passion: Jack Lalanne, Arnold Schwarzenegger, Bruce Lee, Bob Ross,  Seth Godin, or Richard Branson
Method #1 Using Google Search and Keyword Tracker
This method involves using two different tools that Google has in its arsenal to get an overview of what people are looking for.
The first method is very simple, involving Google's Autocomplete search function and the second involves using Google's Keyword Planner.
In order to use the free Keyword Planner, you must have a Google AdSense or AdWords account. You'll have to sign up and give Google and set up an account very similar to doing business on Amazon or PayPal.
These types of accounts require banking information so that deposits can be made to your account in the situation where you have made money, or taken out if you buy something.  I've known people that have had these types of accounts and they are safe and secure.  I've never heard any complaints about them.
If you don't want to use Google's free Keyword Planner, then you can use a paid service like WordTracker.

Step 1 – Use Google's Autocomplete
As I told you before, you are going to be using Google's search engine, so navigate to Google's home page. (www.google.com)
Whenever you start using Google's search field, you'll notice that a bunch of related words pop up with the autocomplete function.
For the sake of this example, let's say we are going to go into the health niche and look at dieting.
Whenever you start typing a word you'll notice that related words start popping up in the search field. (See Figure 1.)
Figure 1.

You can see by Figure 1 that the two top search terms are "diet pills" and "diet plans".
According to Google these are called "Autocomplete Predictions" and they represent queries or searches made by other people as well as the content of similar webpages.
You will also see relevant searches you may have made in the past as well.  However, the bottom line is that the search terms have been used by people in the past.
We are just going to use these as idea generators and will give you fertile ground as to what other people have been searching for.

Step 2 – Look At Relevant Terms
Start using some of the relevant terms found in the Autocomplete function.  So we now have two top terms – diet pills and diet plans.
Let's take a look at Figure 2:
Figure 2.

So let's say you don't have any interest at all in diet pills, but you do in diet plans. However, there are bazillions of diet plans and the term "diet plan" itself is extremely competitive.  So, we will have to get a little more specific.
Now you can start to do a search using the term "diet plans" and I would also use the singular "diet plan".  Take a look at Figure 3.
Figure 3.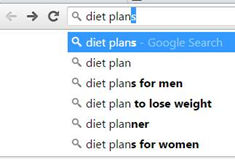 Step 3 – Organize Your Data
Now we're starting to get somewhere!  We have "diet plan to lose weight" and the real interesting ones: "diet plans for men" and "diet plans for women".
Now you can do a search for diet plans for men ( or women if you choose) like this:
"The best diet plans for men"
"The best types of diets for men"
Or even…
"The most popular diet plans for men"
Once I  Googled those phrases, I then compiled them into an Excel file that looks like this. Please bear  in mind that I could have made this a much bigger and more detailed sheet.  For the sake of getting through this entire process, I kept it small.
Here's a list of diet plans for men that I organized from those sites:
Figure 4.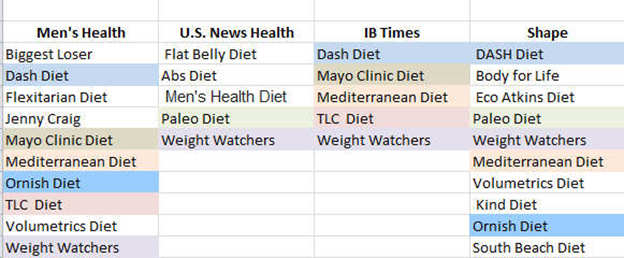 You'll notice that a few diets keep popping up on this list.  Weight Watchers was first followed by the Dash and Mediterranean diets.
You don't have to choose the plans that come up the most.  You really need to look at these and decide which ones interest you the most.
This chart lets you know which diets are the more popular so that you can see how much interest there is in this diet before you make your final decision.
Let's pretend that you have already been on the Mediterranean Diet, and are very familiar with it and like it.  From looking at you excel sheet or list you see that it is a prime candidate for your niche.
NOTICE:  Just as a side note, it's always good to have actually used or been involved with the subject or niche that you're going to build your online venture around.
If you don't know the subject you're writing about, then take the time to learn it.
This is the primary reason why you need to have a genuine interest in what you will be writing about and promoting.  If you don't have a serious interest in it, then find something else you can write about.
Step 4 – Use Google's Keyw

ord Planner
As I said earlier in this post, you'll have to get a Google AdWords or AdSense account.  Once you get that set up, head on over to the AdWords portion of Google and log in.
Figure 5.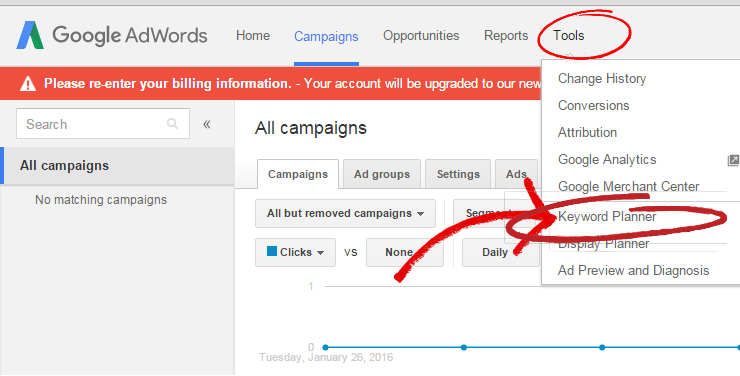 Google AdWords has all sorts of tools and tracking interfaces that will help you launch a great campaign, however, we will only need to use the Keyword Planner to find out which words and phrases are the most popular.
All you need to do to start is click on the word "tools" and then click on the words "Keyword Planner" in the drop down menu.
When you get inside the Keyword Planner, the Interface looks pretty simple there is three drop down menus to choose from:
Figure 6.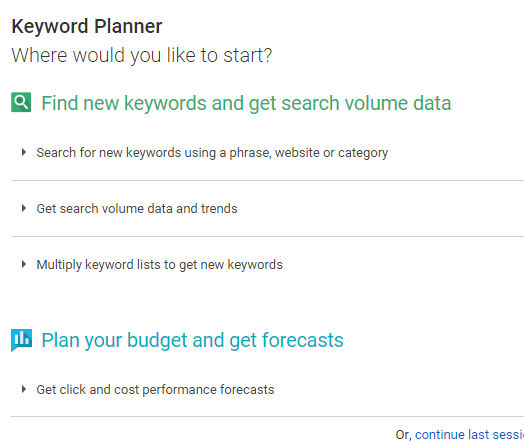 You'll want to click on the top suggestion that says "Search for new keywords using a phrase, website or category."
Once you've done that, you'll have a field to type into.  Type in "Mediterranean Diet".
The search field should look something like this:
Figure 7.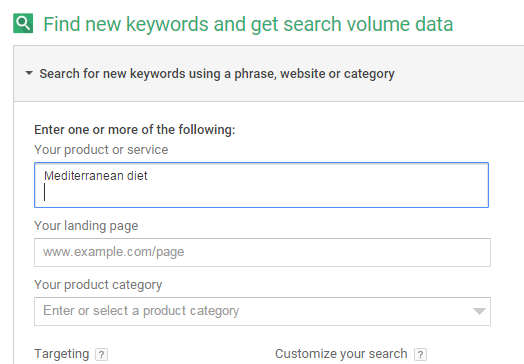 After you've plugged in your keywords or phrases, you can then press the "Get Ideas" button at the bottom of the screen to  see the results.
Figure 8.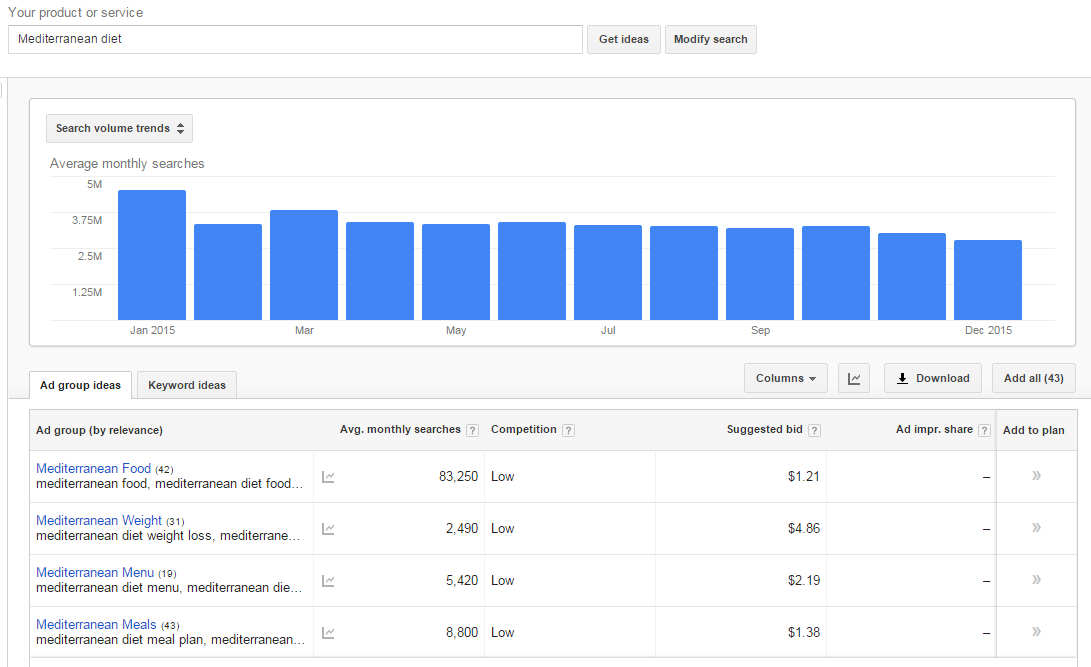 In this screen you will see the monthly volume of the searches with the words "Mediterranean " or "Diet" or a combinations of  these words and phrases listed below that.
Not only that, but you can see the number of monthly searches and the competition for these different phrases.
But the main information you can take away from this is the listing of similar terms and the search volume each term or phrase has.  Take a look at the first phrase under the Keyword Ideas tab that says "Mediterranean Diet".
Figure 9.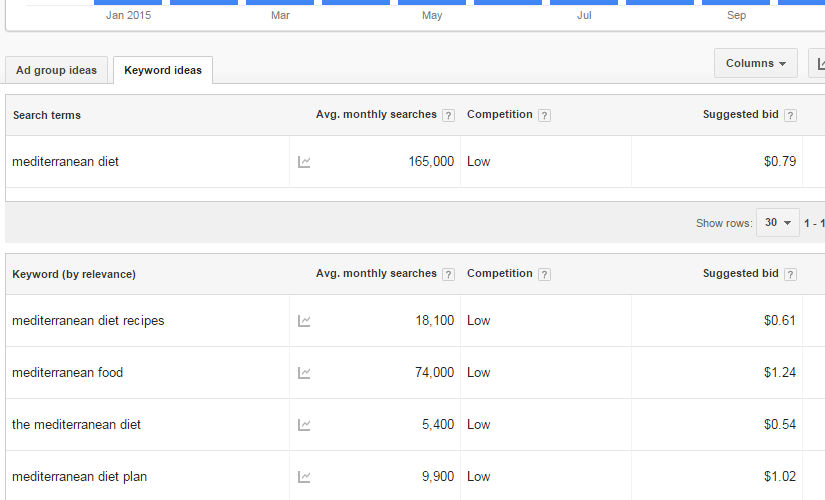 You can see that the term "Mediterranean Diet" gets 165,000 searches a month and that it's not very competitive.  That means there aren't very many people aren't competing for advertising on AdWords ads for that diet.
This is kind of a good news / bad news joke.  On one hand, you'll have quite a few people searching for the term "Mediterranean diet", while not too many people are using the keywords "Mediterranean diet".
On the other hand, if not too many marketers are using the term "Mediterranean diet" then perhaps  there aren't enough people searching for it.
Once again, you can make a good list out of what keyword planner presents you with and decide if any of  these terms can be translated into a niche.   Keyword planner has a spreadsheet file you can download for these terms and phrases.
This will  help you decide which phrases words and ideas for a good niche in the Mediterranean diet arena you might like to venture into.
Step 5 – Use Google Trends
Google Trends is a great tool for determining people's interest in a subject or idea.  You can go to Google Trends at : https://www.google.com/trends/.
The interface on trends is pretty easy to learn.  You can check to see how popular different terms are at once and see how they compare to one and other.  In this case, I checked to see how the Mediterranean diet fared against other diets in our spreadsheet like the Paleo and Weight Watchers diets.
Take a look at Figure 10 to see how they fared.
Figure 10.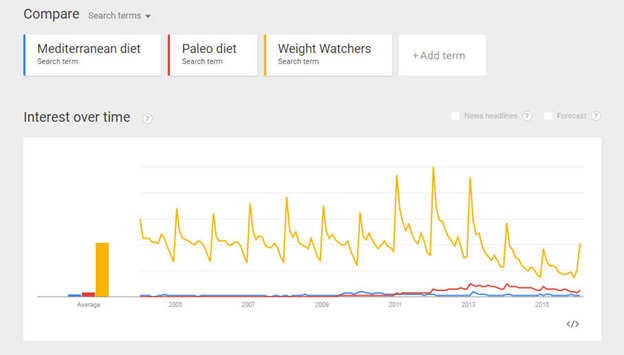 Obviously "Weight Watchers"  has a lot more interest than the Mediterranean and Paleo diets.
Method #2 Using Amazon to Find a Niche
Another way to find out if a niche is worth pursuing is to use Amazon's website.
There are between 600,000 and 1,000,000 books written every year in the U.S. alone. You can easily use data from all this activity to seek out and evaluate whether a subject is worthy by looking at Amazon's Best Seller List.
To get started looking at Amazon's Best Selling books, click on the small arrow next to the search field and follow the drop – down menu and click on the part of the list that says, "Books".
Make sure you click the search icon or hit  "Enter" next.
Figure 11.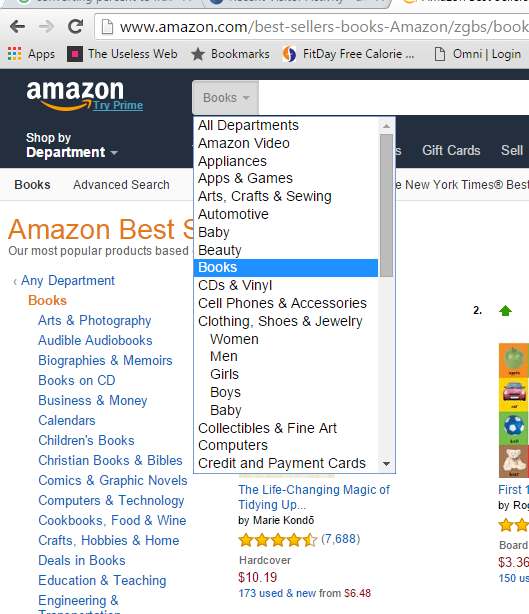 You should be taken to another page where  there is a link that says, "Best Sellers" in the center of the page.  Click on that link also.
Figure 12.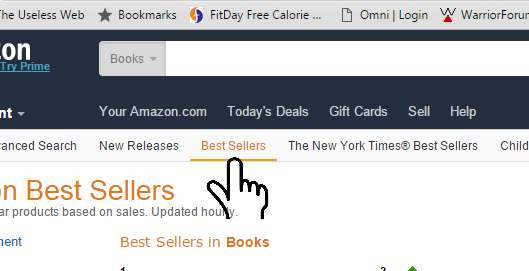 Once you do that you'll see a menu open up on the left hand side of the page that has a listing that looks like this:
Figure 13.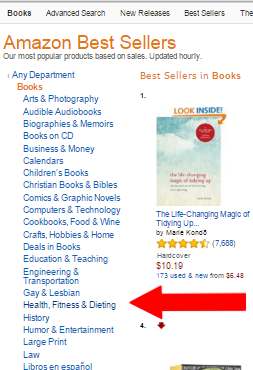 You want to navigate down to the link that says, "Health, Fitness and Dieting" and then click on that.
Figure 14.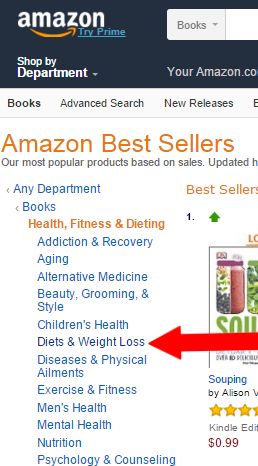 Finally, you should be able to find all of the top books on diets that have been searched for the most.
Figure 15.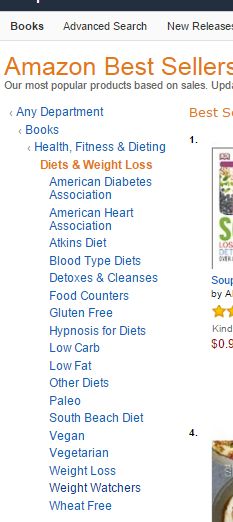 As you can see, the books, diets, and categories that are significant in this category are listed.  You can click on your chosen diet niche and determine which diet or life style you are most interested in and would like to promote.
The best thing about Amazon is that not only can you see what the best sellers are in each category, but you can also read the comments about the different subjects to get a feel for what people are actually buying.
You can also see how one book or subject stacks against the others in general, in their category and in the specific topic area.  If you click on a specific book or product, you'll be able to see exactly what I mean.
For example:
Figure 17.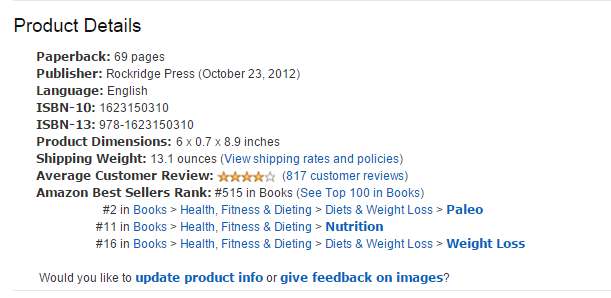 In this case I clicked on the book, "Paleo for Beginners: Essentials to Get Started"
Looking at this information, you can see:
This book ranked #2 in the Paleo subject area
#11 in the "Health, Fitness and Dieting" category
#16 in the weight loss area
If you look where it says Amazon Best Sellers Rank it's listed as #515 in books in general.  Considering the millions of books Amazon sells, that's not too shabby.
Amazon's Comments Sections are Very Important
After you've navigated to a book or product page  there is a section where  you can view  the comments that people have made about it.  This is a very important part of being able to determine which niche you're going to invest  your blood, sweat and tears into.
If you look back  up at Figure 17 again, you'll see that in Average Customer Reviews there are 817 comments.
Now let that sink in for a moment.
817 people took some of their time to actually sit down and write a review of this product.  Many of them wrote rather extensive reviews of it and if you look at the 4 star rating, you'll notice that most of the reviews are favorable.
So, apparently there is a crowd of people that not only have been reading this book, but they are actively involved with it enough that they are willing to write about it and recommend it to others.
Not only can comments sections like this give you an idea of how popular an  item is, but it can also give you valuable insights as to what people liked and disliked about it the most.
Figure 19.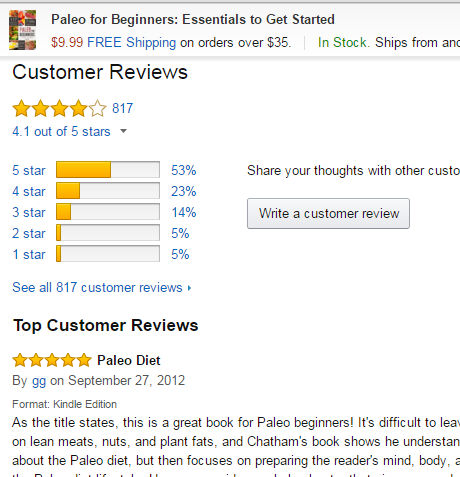 Final Thoughts
You can use all of these methods here to see if your niche idea actually has legs and can move.  I would advise you to thoroughly go through all of these steps and methods before you begin working on your niche.
In the long run, it will save you a lot of time and cut out a lot of trial and error in your pursuit of trying to find a niche you can happily work and thrive in.
Please leave some comments, complaints, disagreements, in the comment  boxes below, I'd love to hear your thoughts and ideas  on the issue of niche selection.
To Your Continued Success!
Mark "Elmo" Ellis