Just to let you know, this is Part 4 in a series on how a copywriter approaches writing a blog post.  Many of the exact same elements that are in blog posting and writing ad copy are the same.
Of course, there are differences between the two because they both serve different purposes.  
But having studied and written copy for years, I can tell that you can write a much more powerful post if you understand the elements of copy.
In case you've missed the previous 3 posts on this subject, you can always use the menu to the right to navigate back to the last 3 posts.
Generate Interest ….or Die!
You will not hold an Internet surfer's interest very long if your post is boring and sucks.
Sorry, but that's the hard reality.
You have to write posts that hold the interest of your online audience; not always an easy task to do, for sure.
So what are some of the steps you can take to ensure that you're writing compelling, life changing posts and information that people will want to devour the second you push the "publish" button?
Actually, the answer is quite simple but the process isn't.
You have to write really great content that'll get noticed, draw in a crowd, and get them involved in your business or mission.
Plain and simple. But how can you do that?

Path 1: Give Them Something that Helps
This is a rather common idea for almost any kind of content on the Internet, but you want to help people solve a problem. The old business model said: reel them in, sell them something and grab the money.
And that might work for a while.
But the reality is that the rules have changed over the years.
People are sick to death of spam… Being sold to all the time… … and sites that give nothing more that shallow, short bursts of content that are mere masks for suckering you into giving up your email address.
You need to have a different mission that helps them with a problem, while giving them a way to become a part of something.
In essence, the new business model says, "Give them the gift that keeps giving."
The more you try to help others out with your knowledge or expertise, the more they will be willing to do business with you.
I like to refer to that as the "Barbershop Effect". (AKA the "Beauty Parlor Effect" if you're a woman.)
If you go down to the local barbershop and sit a spell with the boys, you get used to the people and the environment.
The barber is friendly, he seems to have a genuine interest in you as you wait your turn, or get your hair cut. You meet others there. While you wait your turn you sit and chat while playing checkers.
You learn stuff about politics, business, and news. You make friends and begin helping each other.
Before you know it, you can't wait to go back and get your hair cut again. Having an online business is just like that.
Initially, you'll want to help people and give them something extra of value. If you are able to help them and do it consistently, they will begin to see you as an authority and refer their friends to you.
So your task is to find out what your herd or audience is looking for, while helping them as much as you can.
If you can show them a way to solve a problem without charging them for it, you'll have grateful clients, customers, and an audience that'll refer you to their friends again and again.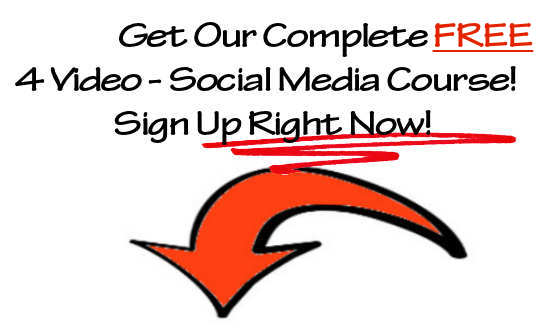 Path 2: Organize Valuable Information for Your Audience
Thanks to the Internet, information is being dumped on us like Niagara Falls.
Almost 300 billion email messages are being sent out in one day alone.   Facebook gets over 200 million photographs a day and YouTube uploads 300 hours of video per minute.
So sorting out, placing, and arranging content that's similar in scope so that people with similar interests can view that information, is quickly becoming a valuable asset on the Web.
The person that does this is known as a curator.
The best and easiest example of this is the social medial site, Pinterest.
On Pinterest, people can share items, articles, videos and pictures of things that interest them.  They usually place these things into categories that other people are interested in.
Pinterest is actually a site that has information curated by its users and therefore the information gets curated or collected by the members as a matter of course.
However, individual bloggers can also curate information on their sites as well.
If you are a person that owns a site about electric bicycles, you could easily have a blog that reviews different types of electric bikes and have them categorized into different categories.
You could also have a page that compares the different bikes and how they compare to one and other.
If you want to see a real slick idea of how this can work without being boring, check out Harley Davidson's site of motorcycles.
They've managed to showcase their work, while impressing the people that view it.
This is definitely not an easy task.  There is a huge time requirement that gets sucked up looking up and verifying information.
However, in the context of blog posting, you can do a series of posts on different resources or items in your niche, that you could work on for years.

Path 3:  Show Them How to Do Things
Tutorials are huge and they kind of go along with Path 1.  Anytime you can teach a person how to do something, it will increase your readership.
Think about all of the times you went online to find out how to do something or how to fix a problem.  Now multiply it by all of the billions of people that are looking for the same type of posts.
It's staggering.
One of the problems with this type of post, is that it has to be up to date and thorough in its explanation.  Just like writing a blog post, you will have to plan out what it is you're going to train your audience to do, otherwise you're just producing a bunch of crap.
Here's a good example of a poorly planned tutorial video:
You need to understand how to explain things in a step-by-step fashion so that it is perfectly clear to your reader or viewer exactly how to do the function or fix the situation.
This is not easy to do.  I'm a professional trainer and educator and I have been making professional – instructional videos for the better part of a decade.  I'm always amazed at how many times I've left out small, yet important details out of my instructional videos.
So you have to think out every aspect of your explanation and test it on someone else before you roll it out to your readers.
Here's a step by step method of creating great tutorial posts that helps your herd get results when they look to you for answers:

Step 1: Research Your Topic — You'll want to make sure that you are picking a topic to create your tutorial around that is something that your audience is very interested in.  There are several ways to do this:
Lurk on forums where your tribe hangs out at and see if you can find a problem or idea that keeps popping up.
Ask people that frequent your website or send them an email what they would like to read about from your site.
Check around on social media sites like Twitter and find out what the hot topics are in your niche or environment.
Go on Amazon and see what the bestselling books are in your section. Go and read the comments of these books and see what the people that read them liked or disliked.
Use Google's "Searches Related" section at the bottom of their Search Engine Results Pages (SERPS).
Step 2:  Create a Definite Topic — Once you've found a good idea on what to base a tutorial on, you'll need to define it so that there is absolutely no question as to what the subject or idea is.  In education language this is called "finding your main objective".
You need to make it crystal clear what the main overriding objective of your tutorial is before you start to put it together.
Step 3: Keep the Learning Objectives to Just A Few — If you're going to be teaching someone a subject that is rather large in scope, like how to create an infographic for example, you may need to break the material down into smaller chunks.
Instead of going through a bazillion steps, you may need to break the information down into several different lessons; then you can break those lessons down into two or three different chunks.
In education this is referred to as "Chunking".
The main idea of Chunking is to keep the number of things that the audience needs to learn to just a few steps.
So, getting back to teaching how to create an infographic, instead of going through the creation of the entire graphic, you could show just how to create a block of color, place words on it and then group the graphic.
The next lesson could go through three other steps or objectives.
Step 4: Outline the Different Parts of Your Tutorial — You don't have to write out a real detailed outline, but you can flesh out the different parts of your instruction like this:
Intro (Describe what you'll be teaching them)
Instruction (These are the steps that you'll be teaching them.)
Conclusion and Closing Comments
Step 5: Use Instructional pictures — Use pictures to help tell your audience exactly what to do. Here's an example of a good graphic that you can use:

Try to make sure that you're creating graphics that have clear directions on them and that your readers understand what you're trying to explain.
Step  6: Create Great Instructional Videos ― If you're using instructional videos for your online tutorial, you need to make it as high quality as possible.
Take the time to edit it!
I've been watching and making my own videos for years and I can tell you that nothing is more irritating than a poorly made and edited video.
Here are things you should consider when editing one:
Take out all of the uhhhhhh's and the ahhhhhhh's or whatever guttural pauses that you're using because you can't think of what to say.
If you have to demonstrate something, you don't have to go through a repeated procedure over and over again. (Example: you need to type in words on a bunch of different rows in a page. ) Just write it once and skip over all the repeated stuff like a time lapse.
Skip all slick sound effects, music, and other distractions. In education technology terms those are what are known as "Channels".  Too many channels in an instructional video are distracting.
Make sure you're using good quality audio equipment. Using audio that is not very good quality is a bad idea, because it is distracting.
Here's a good example of a video that eliminates all distractions while providing valuable content:
Path 4: Make List Posts
List posts get shared a lot.  The reason for this is quite simple, they take a pile of information and turn it into chunks that are easier to read and are much more digestible.
If you read my post on how to write viral blog posts, I mentioned that people scan blog posts and web pages, and list posts are very easy to read.
Here's a step by step method of writing a great list post:
Step 1: Plan out ahead of time how long your list is going to be.   If you're going to create a really huge blog list, go as large as you can.  It's not uncommon to see list blog posts of this nature with 101 items in it.
Step 2: Keep the items in your list similar.  You want to make sure that all of the listed items in your blog post have a similar nature.
If you are making a list of the top 25 adventure movies of all time, make sure that all of the items in your list are adventure movies.
Step 3:  Try to format all of your lists the same.  If you're going to use a bulleted format, then make sure it's the same throughout the post.  This creates unity in your list and makes it easier to read without confusing the reader.
Step 4: Make sure to number the items on your list and that you stick to the number in your title.  If you tell your reader in the title that you have 15 of the best sites on butterflies, then number your list of sites and make sure you have 15 of them.
 How To Find Popular Blog Post Titles Step – By – Step
So now that you know what the possible types of posts to write, you'll now need to know what the best subjects are to write about in your chosen niche.
If you follow these simple, easy to follow steps you'll have more than enough interesting stuff to write about for your audience.
Step 1: Look On Forums Let's say your niche is affiliate marketing.  You could easily find out what people are looking for by visiting popular Internet marketing forums like The Warrior Forum.  So you head over to the WF to look for topics related to affiliate marketing.

Type in what you're looking for into the search window.
Click on "Enter" and start scrolling through all of the search results.  You will be looking for questions or comments that have generated a lot of interest.
What you're looking for is a topic that's hot and has a lot of people responding to it.  If  you look closely at the results page on this forum, you'll notice on the right hand side it will show how many views and replies the post has.
Here's an example: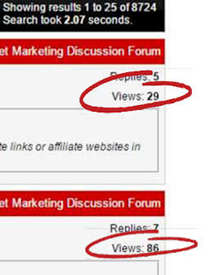 What you're looking for are posts with rather large views as well as replies.  A good result for this would be thousands of views and hundreds of replies.
Here is a good example of a subject that seems to be hot in the affiliate marketing subject area of the Warrior Forum:

So, if you're blogging about "affiliate marketing", you could figure out  from looking at this post that online affiliate marketers are looking  for:
How to make hundreds of dollars a day with affiliate marketing
How to do affiliate marketing with 100% free traffic
You could easily write a blog post on each of these subjects and probably be in the safety zone.

Step 2: Look at Best Sellers on Amazon: I've talked about using Amazon for identifying good niches in previous posts, but you can also look to Amazon for great ideas for blog posts.
In order to scope out the books on Amazon that have interesting content that you can use you can easily go the Amazon search feature and look for books that are in your content area or niche.
An easy way to find the best books in your subject area, you can check out the best seller area of Amazon.

As you can see in the image above, if you click on the drop-down menu, you can select   "Books" from the drop-down list.
Once you've done that, you can leave the field above blank and then just press "Enter".
You will then be taken to a page that has "'Best Sellers" on its bar- menu.
Type in "Affiliate Marketing" in the search window and hit "Enter".  On the right hand side, you will see a little menu window that looks like this: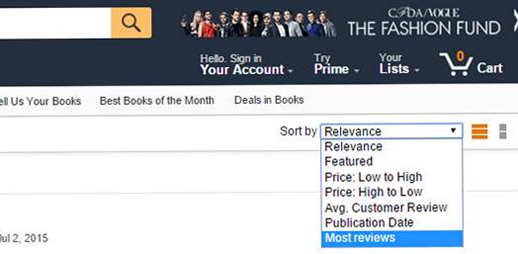 Click on "Most reviews".
The reason you want to click on "Most reviews" is quite simple. These are the books that most people are very interested in. If someone has taken the time to read and then write a review of a book then chances are they probably liked it or hated it.
Usually when there are a lot of really good reviews, people really like the book and therefore the material in those books is pretty good.
I recommend that you read a bunch of the reviews to see what people liked or hated about it. That can be a real wealth of information and give you some great ideas for blog posts.
Here's another step that you can take.
Once you've found a book in your niche that you really like, you can then use the "Look Inside" feature to gather even more information.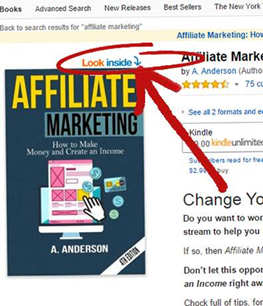 kj
Using the "Look Inside" Feature allows you to take a look at the table of contents.  So, in the case of our
"Affiliate Marketing" probe from earlier, we will have all kinds of subjects at out fingertips.  Just click on the "Look Inside" logo and you'll be able to view the table of contents as well as some parts of the book.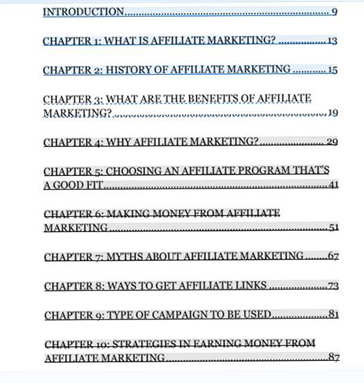 Wow!  Almost any or all of these could be used as idea seed to write a blog post from.
You could easily come up with titles for your next blog posts like,
"5 Myths about Affiliate Marketing!" 
"6 Ways to Get Affiliate Links"
"The Step-by-Step Guide to Choosing Affiliate Programs"
See how easy that was?
In a mere 15 minutes, you could have about 20 ideas that you could write about.

Step 3: Use Social Media to Generate Ideas  If you have a following on Twitter or Facebook, you could always just ask your readers what they want to read about.
On Twitter you could ask something like this:
"#affiliatemarketing if you could ask an affiliate marketing millionaire just one question, what would it be?"
I can almost guarantee that someone would take you up on your question, and you could also ask the same thing on Facebook.
A really great site to do this on is "Quora".  Quora is a social marketing site that allows you to ask questions and then get answers.

Once you ask a question like the one above, you'll see a screen like this one: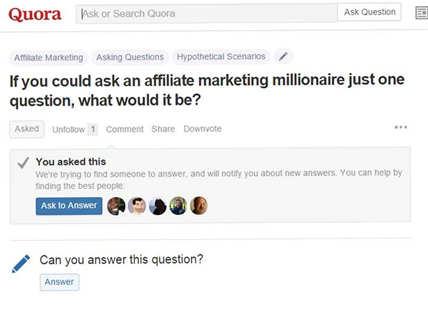 Quora will also give you an active list of people that could possibly answer your question.  All you have to do to ask them to respond is to click on a box and they'll be asked to participate.

Step 4: Use BuzzSumo   One of the easiest ways to figure out what subjects are popular enough to write about is to use a source that shows you which posts are most popular on the Web.
BuzzSumo is the perfect tool for finding those types of posts.
All you have to do to find out which post is most popular, is to go to the site and type in the subject that you're curious about.
Once again, "affiliate marketing" will be our subject.
Now, just in case you didn't know, getting your post "shared" on the Internet is a good deal for your post.
It actually means two things:
Your post resonates with someone enough that people will actually go out of their way to share it on social media sites with others.
You will be getting valuable backlinks from other people's websites thus ranking higher on search engines.
BuzzSumo is super easy to use, all you have to do is type in your subject into the search field.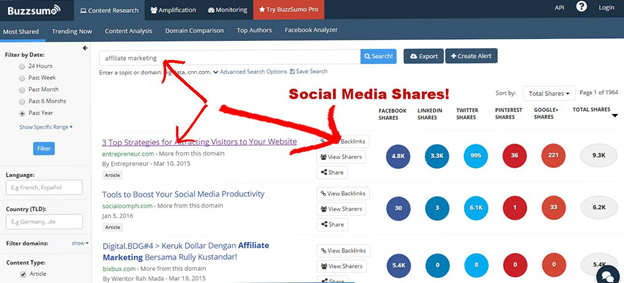 As you can see on the left hand side, there is a list of all of the top blog posts with their titles and on the right there are social media shares for those posts.  The final tally for all of the shares is on the far right.
The writing strategy behind this tool isn't to look at somebody else's work and then copy it. The strategy is to see what the post was and to see what ideas were covered.  This is nothing more than an idea generator.
The down side of this is that the free version of BuzzSumo is that you will only be able to view about 10 titles that come up.   After that, you'll have to pay at least $99 a month.

Step 5: Keyword Searches Using Google or KeywordTool.io
Using key word tools like the following will make your job of finding ideas a lot easier while giving you an idea of what keywords people are looking for.
All you really need to do is key in the phrases and words that are in your niche and the keyword generator will present you with ideas that you can easily generate ideas from.
Here are a few of the great Keyword tools you can use:
Google's Search Engine – When you start typing a word or phrase into Google's search window, you will immediately see a list of popular words and phrases that people have been typing in.
Once you hit the search button, you'll be taken to the search engine results page where at the bottom is another helpful tool resides called the "Popular Results" section.   That section is a hotbed of keyword phrases that you could easily tweak into a blog post.
Google AdWords also has a tool built into it called the Keyword Planner that's very useful.  It is a great way to plug in words and phrases that'll give you ideas for your posts.
Keyword Tool .io ―This is a good tool to use to generate ideas as well.  Like most good online keyword tools like Wordtracker, there is a free service you can use but it won't show you any of the results.
To get the traffic results for the keywords and phrases that you plug in you'll have to pay for the use.  (Not cheap, the service starts at about $70 and goes up from there.)
Now You Have Some Great Blogging Tools…Start Using Them!
This post could have actually been much longer; I could have easily given you a lot more ideas on the subject of generating ideas.  However, the best thing you can start doing as a blogger is to get started using some of the tools that you have now been exposed to.
Once you get started, you'll naturally get used to using one or two of these tools quite a bit and fall into your own groove of which one's work the best for you.
If you do find that you're having a problem coming up with ideas for your posts, you can always use some of these resources to get your mind started.
Now, go out there and kill it.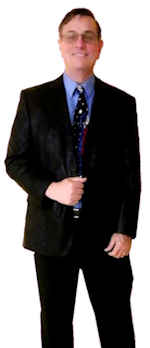 ~Elmo
Mark "Elmo" Ellis is a former Army Band jazz trombonist that has literally lived all over the planet.  He now writes advertising copy while living next to the Valley View Ferry in Kentucky.
If you find that this post was a blessing to you or helped you in some way, please feel free to share it with others by pushing one of the social media buttons or leaving a comment.